A Special Toy Soldier Consignment: The John Ruddle Collection
21/11/2023 | Glen Chapman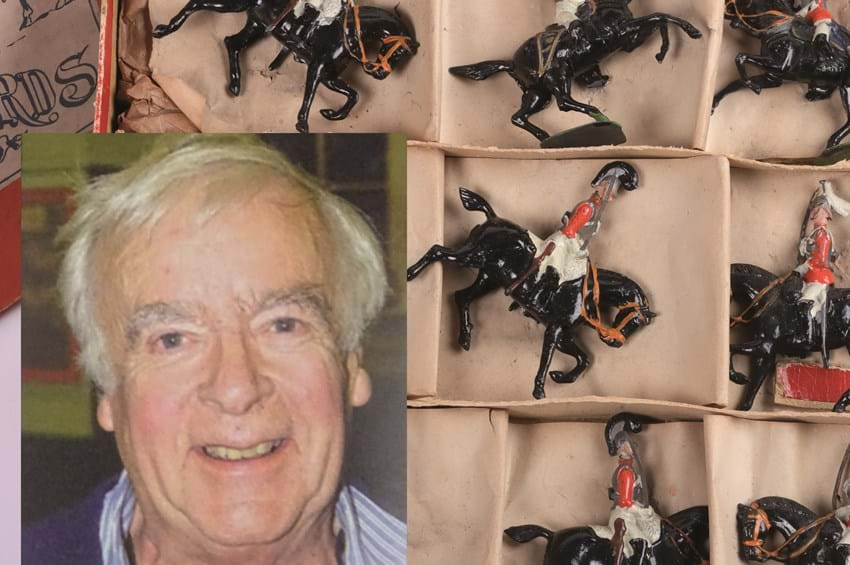 This December we're pleased to be offering 'The Toy Soldier Collection of the Late John Ruddle', this online only auction will be taking place on our website from 10:30am on Wednesday December 2nd 2023!
John Ruddle
John Ruddle was a prominent member of the British Model Soldier Society, notably serving as Secretary for a number of years and taking on the onorous task of setting up and running the National Collection for many more. With his wife Joan, he moved in to his newly built house in Hampton in 1955, remaining there for the rest of his life. He already had a plan for his collection, and also moved the first parts of his famous garden layout in with him.
John was an ardent collector of Britains hollowcast toy soldiers, and there were very few types that he did not possess, setting up a toy soldier room in his attic that could rival any other in the world. He had the perfect job as a linotype newspaper printing machine maintenance engineer that not only gave him access to quantities of printers type metal but also the time to paint the castings he produced from them while he was on standby in case the machine needed attention during the crucial nightly print run. He won many first prizes at BMSS Annual Shows, and was one of the first of the new Toy Soldier makers. He extended his collection not only with comprehensive representations of the British and Indian armies, but also garrisoning his garden with the troops of the great powers. The outdoor soldiers gave great pleasure to his visitors during his open days, but sadly did not survive their 67 year service. But John was interested in the whole history of toy soldiers and figures, so in this sale there are iconic examples of just about every form that they have ever taken.