Johnny Seven O.M.A. 'One Man Army Gun' Nostalgia!
22/11/2019 | Glen Chapman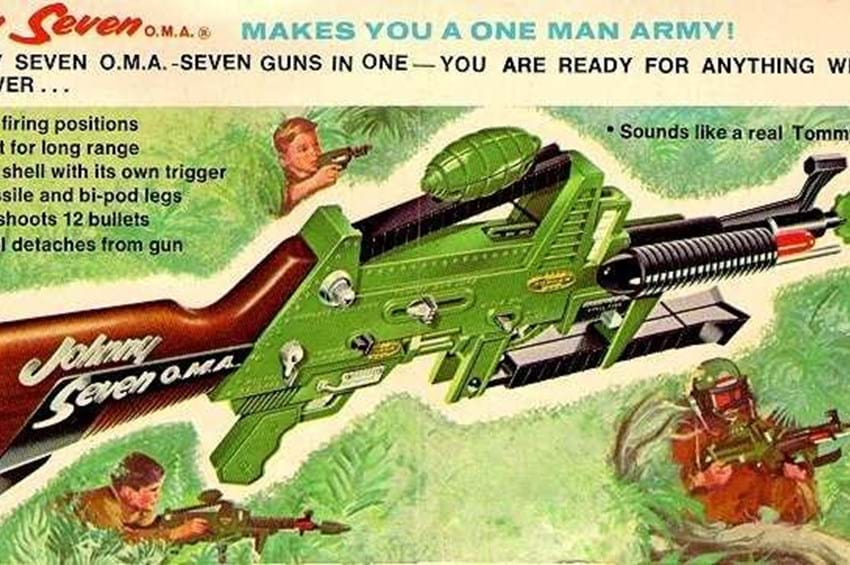 When collecting toys, one word comes to mind nostalgia! Twelve months ago I received a telephone call from a vendor who said she had been left a toy gun from her father. This was not any toy gun this was the very popular Johnny Seven O.M.A. 'One Man Army Gun.
Memories started to flood back when I was a child, during the summer holidays out all day playing war games with my mates, not very PC now, acting out scenes from my favourite war film of the time  'The Great Escape' with Steve McQueen.
We had pieces of wood for weapons, until one day one of the boys for his birthday received a Johnny Seven gun. Once we had seen this toy gun, we knew we had no chance of winning the battle, this gun was seven guns in one, grenade launcher, armor-piercing shell, anti-tank rocket, retractable Bi-Pod, repeating rifle with shells, automatic pistol and Tommy gun.
It was distributed by Deluxe-Topper Toys Canada, which made it very difficult to find and when you did, very expensive to buy. Tri-ang Toys became the main distributor in the UK. When the vendor brought the toy gun to our office, I was not disappointed, it was perfect, the best one I had ever seen. The Johnny seven gun was lot 177 in our Vintage toy sale on 13th March 2019 and it sold for £1400 hammer price now that's nostalgia