Historic Original Photograph Album Belonging to Eva Braun
03/12/2019 | Matthew Tredwen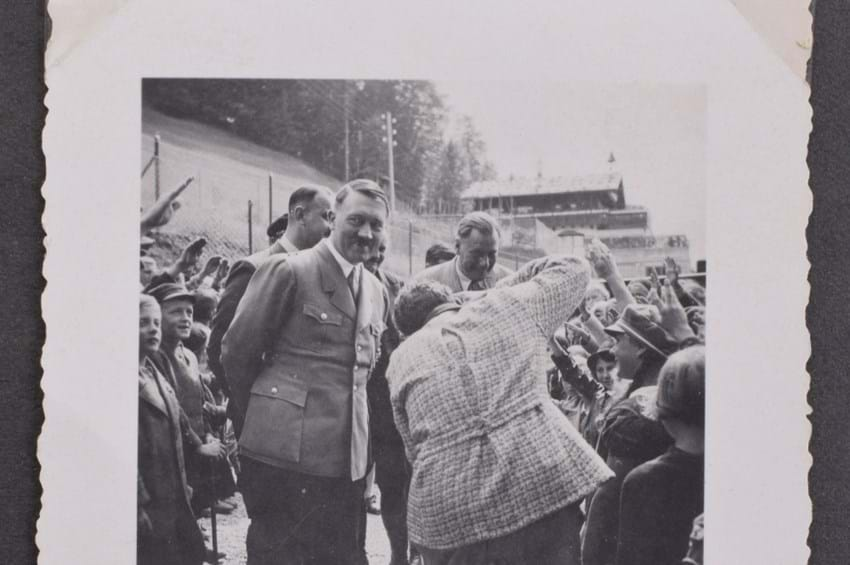 The original "owner", Photographer Edward  "Dixie" Dean and one of Fleet Street's top Photographers obtained the album personally in Hitler's Bunker from a Russian Soldier whom he watched take it from Eva Braun's bedroom drawer shortly after Hitler and Eva's suicide.
Edward along with Richard Dimbleby and Rex North were among the first journalist to visit the Chancellery and Bunker and included in this lot is a typed account of his hair raising trip through Russian lines to Berlin, his experiences in the Bunker  and later at Buchenwald. Also a  list of "War Souvenirs from Hitlers Chancellery" has Eva Bruan Photographic album noted at the top and is signed by Dean and dated August 11th 1945.
The next item in securing  provenance is a fascinating article in the Daily Mirror of July 16 1945 which features the Album with photographs of some of its images, including a double page clearly from the Album, under the heading "Eva Braun Treasured Photos of a handsome S.S.Man" with the sensational claim that Hitler's mistress may have had a secret love affair with one of his personal bodyguard! As to the Album its cloth binding is in the form of a stylised swastika in grey and red with the image repeated in miniature on the rear and neatly laced. It measures 330 x 230 mm.
The images of which there are 73, in various sizes and all very clear, include a number of Adolf Hitler. Among them is one of him sitting on the Berghof veranda looking intently at a document, while another shows him in almost a "Chaplainesque" stance making a salute as he walks towards the camera down the Berghof path and others show him with crowds outside the Berghof.
In addition there are a number of images of Himmler in uniform with other SS men, and both Goebbels and Goering. Others show Hitler's guard detachment both on duty and in relaxed pose at the Berghof and the Reichs Chancellery. Others show a torch-lit meeting and one of Hitler's cars and plane etc. Most images are captioned and almost all can be removed from their corner clips, revealing descriptions and in some instances dates on the reverse (in most cases early to mid 1930's). In summary a unique Photograph Album with a clear and unambiguous provenance that takes it back to Eva Braun's ownership in the Bunker in 1945 through to the present day with all the appropriate and essential documentation. An opportunity to acquire a powerful visual statement from the seat of Nazi power that belonged to the "first lady" of the Third Reich and without question was with her at the last stages of the war in the Fuhrer Bunker in Berlin, 1945.
In 1983, Dean decided to sell his treasured war souvenir and entered it into an auction held by Warwickshire based Auctioneers Warwick & Warwick, it then was purchased again, almost immediately, by one of the bidders who "was unable to get through by phone at the time to increase (his) bid" This owner a Mr R.A.Palmer retained the item for over 30 years, he intended to open a Military museum with this and other items of significance that he had purchased, sadly this never happened and the album along with other items were found after his death, it was purchased by the current vendor directly from Palmer's family. Very few significant artefacts liberated from the Fuhrer Bunker in 1945 exist today in the open market, especially with such concrete provenance dating all the way back to the time of liberation.
We sold this item in our specialist Ephemera, Books & Photographs Auction on 15th March 2017 to a institution for history and research in Germany, for £34,000