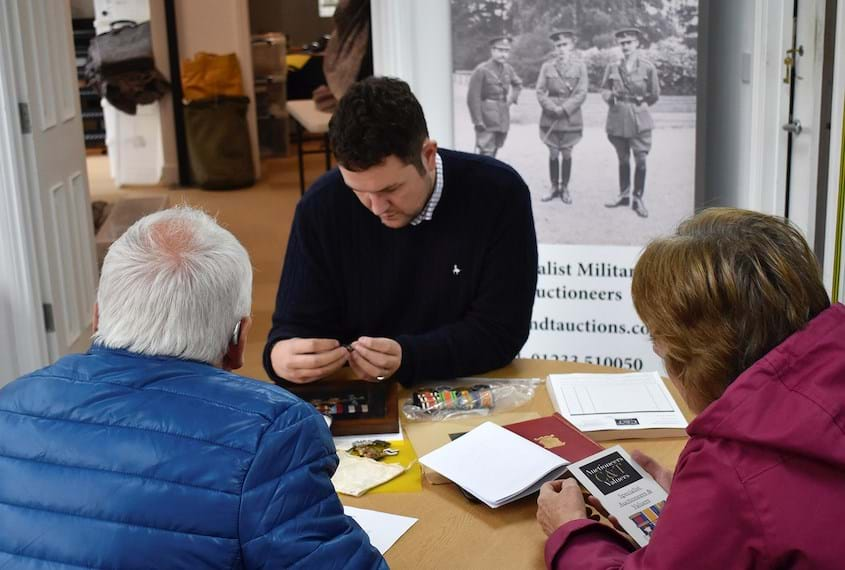 Specialist in Arms, Armour , Militaria
Our Militaria Specialist & auctioneer, Matthew, was very fortunate to be brought up in the Military Antiques industry, his father being one of the leading established Militaria dealers in the UK. His earliest memories as a child involved days out with his father to various UK Militaria Fairs. As a result of this, he has grown up knowing some of the leading dealers, auctioneers and collectors of Militaria both here in the UK, Europe and the USA.
Matthew has always had a keen interest in the subject matter, with a passion for items from the Great War. At the age of 14 Matthew started a career in Militaria with a stall at the London Military Market in Camden Passage, London. From this stall he managed to establish himself in his own right and at the age of 16, he left school and started out as a full time dealer in Militaria. Along with his father he travelled throughout the UK, Europe and the USA, buying and selling Militaria which enabled him to gain valuable experience in a very difficult field of collecting. During his trading period, Matthew built up a very good cliental which has followed him when he established C&T Auctioneers and Valuers Ltd in 2013.
C&T Auctioneers and Valuers Ltd, with a lot of hard work from all those involved, has fast become one of the leading specialist auction houses in the UK and Europe for Militaria. We have offered some incredible collections including the Colin Churchill Collection of British Military Collar Badges & Cloth Insignia, the Late Michael Baldwin Collection of Imperial German Militaria, the Barrie Morris Collection of British Cloth Insignia, the Archive and Collection of the Late Brian L Davis and the Mick Woodfield Collection of Zulu Weaponry.
We are continuing to offer fine quality Arms, Armour & Militaria to collectors, institutions and dealers. Holding specialist online Webcast & Postal Bid auctions through the year.