Former Prime Minister Harold Wilson's Silver Salver
09/06/2020 | George Champ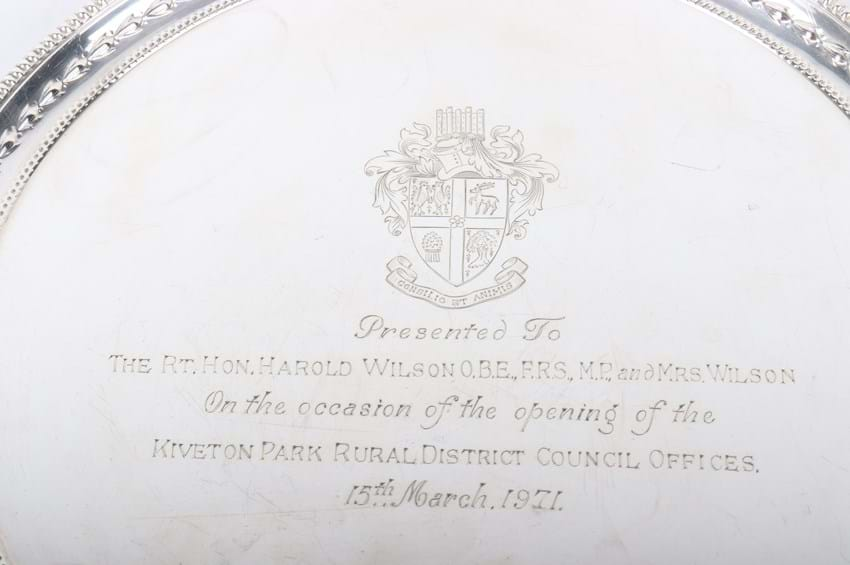 A silver salver features in our 24th June auction that was presented to former Prime Minister Harold Wilson. From being one of the youngest Oxford Don's of the century to presiding over a Labour government with a Socialist core, he himself was a more moderate Socialist compared to other members in the Labour party, he often compared himself to a 'Bolshevik revolutionary, presiding over a Tsarist cabinet'. Perhaps ironic that this item is cast in the same metal so often used to put down his aristocratic opponents brought up with a silver spoon.
James Harold Wilson, Baron Wilson of Rievaulx, KG, OBE, PC, FRS, FSS served two times as Prime Minister, 1964-197 and again 1974-1976. Grammar School educated, where he became Head Boy, and a First Class degree in Philosophy, Politics and Economics, doesn't suggest a Socialist. He in fact was a member of the Liberal Party during his time at Oxford and it was here that he excelled. His biographer wrote "Academically his results put him among Prime Ministers in the category of Peel, Gladstone, Asquith and no one else".
His two stints at Number 10 were known for sound Economic guidance and leadership through some difficult times, namely refusal of ground troops during the Vietnam War. This soured his relationship with the US President Lyndon B. Johnson and the 'Special Relationship' of the two countries during this time is now known as the weakest point of the 20th Century. 
Many factors were highlighted during his time in office, from the vote on continued British membership of the E.C. (European Community), a fairly current topic! To increased taxation of the rich. His achievement's of Social Policy was generally applauded, however his government carried a burden of increasing unemployment. He eventually resigned due to 'a lack of enthusiasm for the role', later being diagnosed with cancer and early stages of Alzheimer's. His resignation honours list caused many raised eye brows and damage to his legacy. One knighthood was given to the creator of his favourite raincoat!