An Exceptionally Rare Part Set Of Three George V British India 1911 Proof Rupee Coins (Calcutta) To Be Offered In July
27/04/2021 | George Champ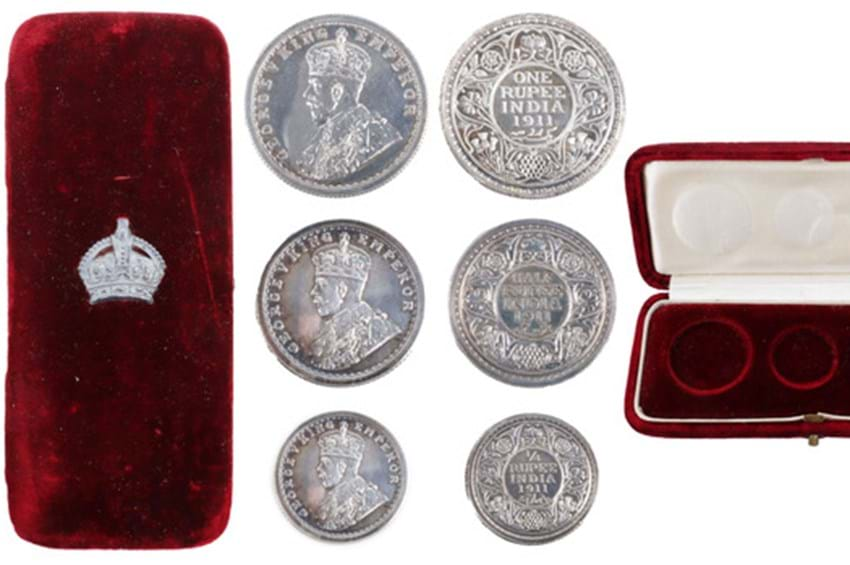 Just two complete 1911 Proof sets are known to exist, most notably in the Ted Reams Collection, sold in the US (hammer $40,000) and a set offered in the David Fore Sale in 2013 (hammer £24,000). The British Museum also has a part set of three coins, however this lacks the fabled Half Rupee. The set to be offered by C&T Auctioneers in July consists of the One Rupee, Half Rupee and Quarter Rupee all within their original fitted burgundy case with silver crown on the outside, "H.M's MINT CALCUTTA" in gold leaf on the inside cover. 
The Proof coins were never meant to leave the Mint in Calcutta and were only for presentation purposes. It is also widely acknowledged that there are only five or less of the Half Rupee 1911 Proof in existence. One of which hammered down just under $15,000 in 2013. 
The original strikes displayed an elephant on the robes of George V, however it caused much controversy as it was said to depict an image of a pig rather than an elephant. These coins were melted down and restruck showing a more clear elephant. These original coins are known are 'Pig' Rupee's. The coins on offer are of the original type with the 'Pig' on show. 
C&T Auctioneers & Valuers will be offering the set on 14th July 2021.