Founded in 1935 Dinky Toys die-cast zamac miniature vehicles, produced by Meccano Ltd, are recognized around the world as collector's items, and are popular within the world of vintage toys.
From their prewar days where they produced a series of railway and trackside accessories to complement their O scale (1/45) Hornby Trains model train sets. They were first given the name "Hornby Modelled Miniatures", but in the April 1934 issue of Meccano Magazine they were given the name 'Meccano Dinky Toys', and in the August of 1935 the name Meccano was dropped, and they were given the name Dinky Toys.  
At this time Dinky Toys introduced six vehicles, which included  a sports car, a sports coupe, a truck, a delivery van, a farm tractor, and a tank, at this time they were all cast in lead. Soon after this success a Dinky model car was available individually, this was a sports car based on the MG Magic Midget.  
Dinky's real popularity grew postwar and these are the toys they are most recognized for today. A new series of toys was introduced in 1938, series 36. The majority of these models were produced post WW2. Models in series 36 included, a Rover Saloon, a Bentley 2 seat sports coupe, an Armstrong-Siddeley limousine, a British Salmson 4-seater convertible, a British Salmson 2 seat convertible, and a Humber Vogue coupe.
Dinky Toys not only produced toy cars and trains, there are many collectable military vehicles such as the Dinky 151a Medium Tank. Toys relating to aircraft, for example Dinky no. 63, Mayo Composite Seaplane. They also had a period where they produced toy ships.
The opening chapter for the 'golden age; of Dinky Toys was with the release of the 40 series, which were all British Saloons, for example the Dinky 40a Riley Saloon. From this came the Super Toys -Dinky Supertoy No. 923: Big Bedford Van "Heinz", the Car Lines which included No. 192 Desoto Fireflite, Dublo Dinky –  No. 073 Dinky Dublo Land Rover.
With the growth in popular culture came the Television and Movie related Dinky's such a No. 100 Lady Penelope's FAB1. They are also known for producing a series of Dinkys which are country-specific models such as the French Dinky Nestle's laitier (milk) truck or the Spanish No.509 Fiat 850.
Like any other toy brand Dinky Toys are more sought after the rarer the model and the better the condition. If you have a collection of Dinky Toys or just one item you wish to get valued then do not hesitate to contact us.
Read more »
Dinky Toys Boxed 100 Lady Penelope's FAB 1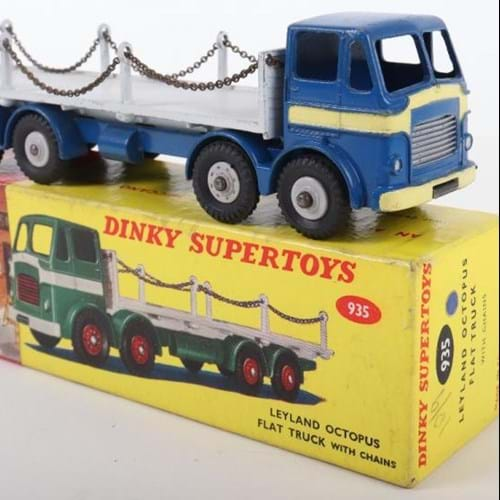 Dinky Supertoys 935 Leyland Octopus Flat Truck
Dinky Supertoys Gift Set 990 Car Transporter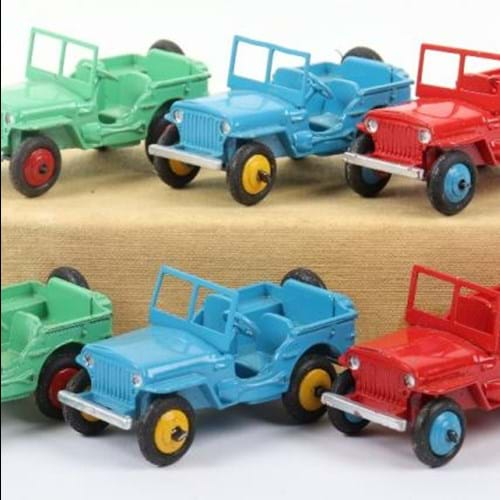 Dinky Toys 25J Jeeps Civilian in Colours Six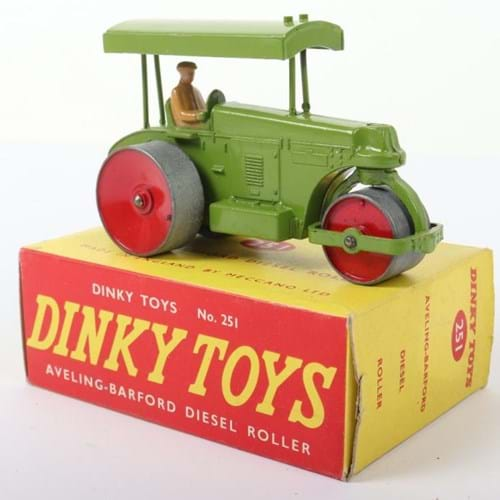 Dinky Toys 251 Aveling Barford Diesel Roller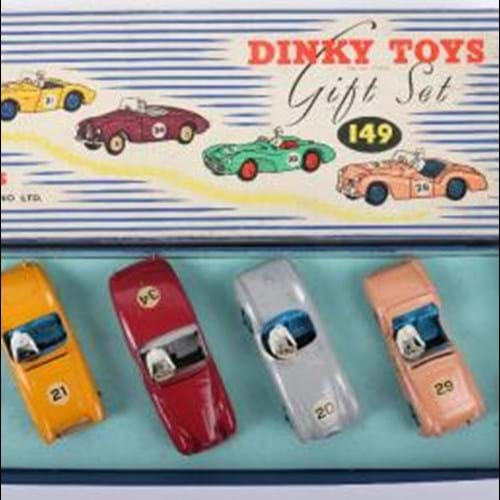 Dinky Toys Sports Cars Gift Set 149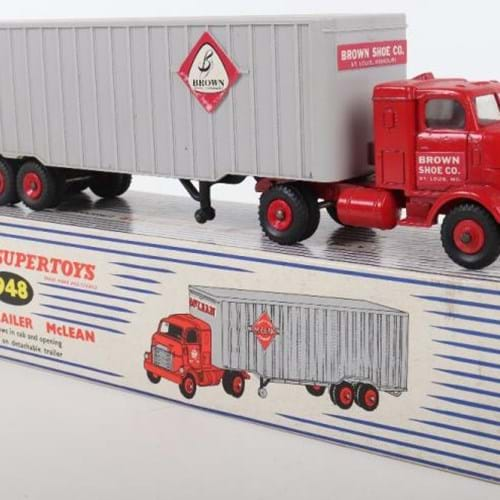 Very Rare Dinky Supertoys 948 Tractor-Trailer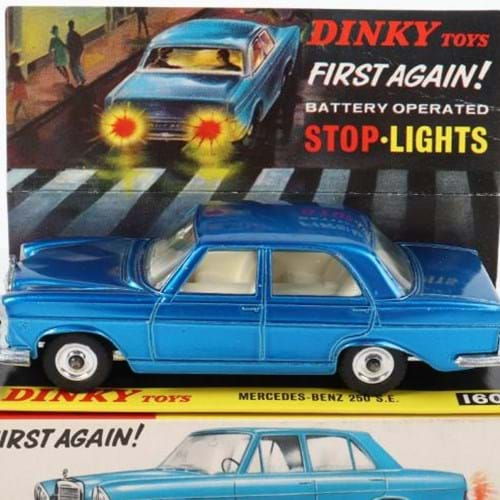 Dinky Toys 160 Mercedes Benz 250 S.E.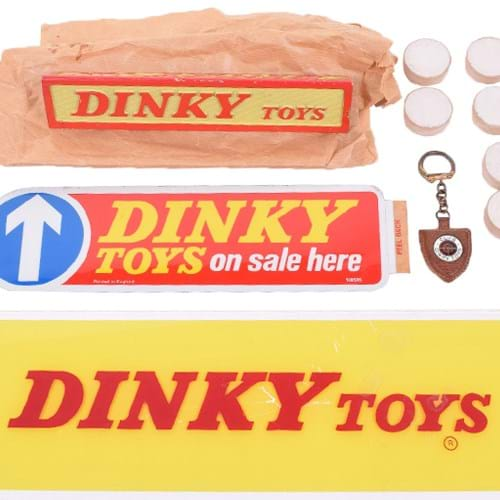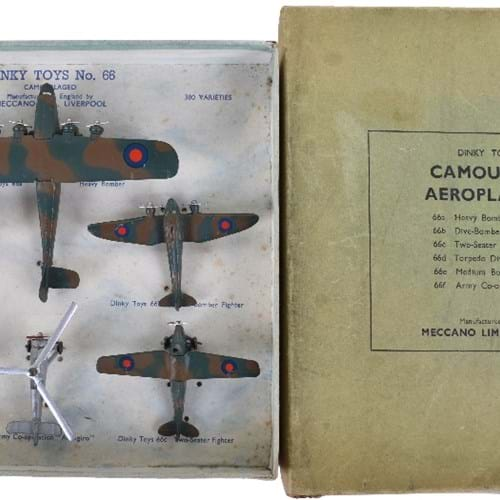 Dinky Toys Rare Camouflaged Aeroplane Set 66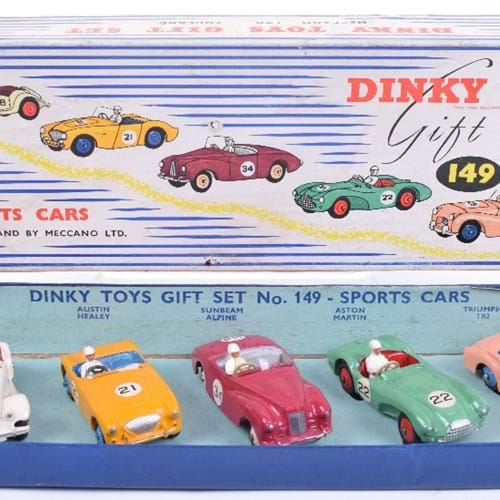 Dinky Toys Five Model Sports Cars Gift Set 149
Dinky experimental Army Ford S20 Tanker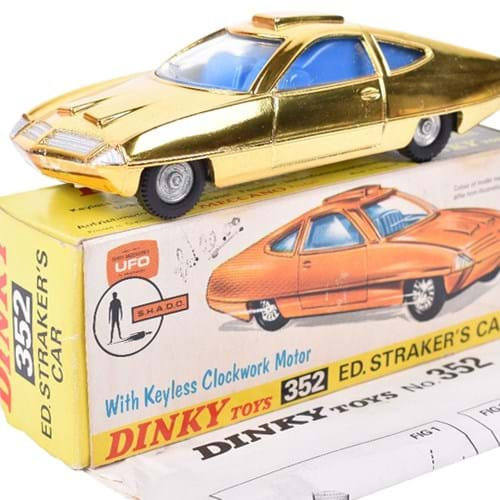 Dinky Toys 352 ED. Straker's Car Direct from UFO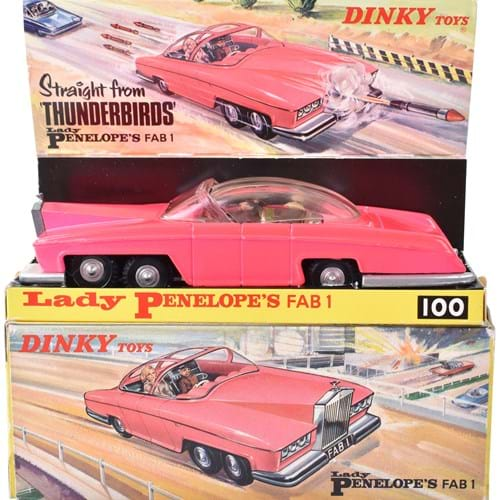 Dinky Toys Boxed 100 Lady Penelopes FAB 1
Dinky Toys 107 'Stripey the Magic Mini'
0
1
2
3
4
5
6
7
8
9
10
11
12
13
14