C&T Auctioneers and Valuers Ltd offer a selection of edged weapons in our Fine Militaria Auctions and also our Antique Arms & Armour Auctions. We are always keen to offer fine examples of swords and edged weapons from the 16th century through to the 20th century. Swords from all nations are accepted for auction as are bayonets.
Naval swords from the British Empire and European nations are often of fine quality, the hilts normally retain a fine gilt finish and grips often carved from marine ivory or bone. The Georgians would often present swords as a sign of respect for an officer or to reward an act of gallantry. The most famous type of sword issued for gallantry was the Lloyds Patriotic Fund sword.
Scottish swords, such as the claymore and broadsword are very popular when offered at auction. Early examples, used at battles such as Culloden, fetch very strong prices when offered. Later types, like those carried by Scottish officers during WW1 and WW2 are also very popular, especially examples with regimental insignia to the blade or attributed to a individual officer.
Another collecting trend with British military swords is examples retailed by Wilkinson Sword, these swords are often numbered to the spine which can be researched through the Wilkinson Sword ledger, so collectors can find out who purchased the sword and when.
We always offer a good selection of Bayonets and Fighting Knives in our auctions, these include examples from all combat nations, dating from the early Brown Bess and Baker types to the later examples used on the SLR rifles. Many military bayonets were modified and improved during their service and as a result variations can produce strong results when they go under the hammer.
Although hunting and Military knives, such as Bowie knives were used in the Victorian era, with the development of Trench warfare during WW1, the troops were involved in much more close quarter hand to hand combat, this meant that the need to develop combat fighting knives was vital. Most WW1 knives were purchased by British Officers, the most common examples were produced by the firm Robbins Dudley. During WW2 the use of Commandos was instigated for actions behind enemy lines, they carried the famous Fairbairn Sykes (F.S) Commando Knife, these are extremely popular with collectors and always attract a lot of bidders when offered at auction.  
Read more »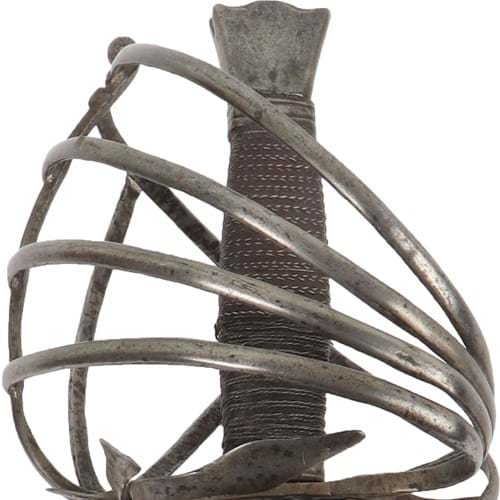 Venetian Sword Schiavona c.1660
Imperial Russian Model 1827 Cavalry Troopers Sword
Japanese Enamel Decorated Sword
Grosse Hilt Pattern Imperial German Officers Sword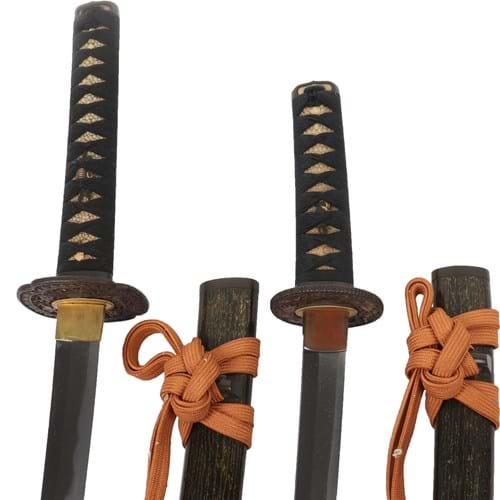 Pair of Japanese Swords Daisho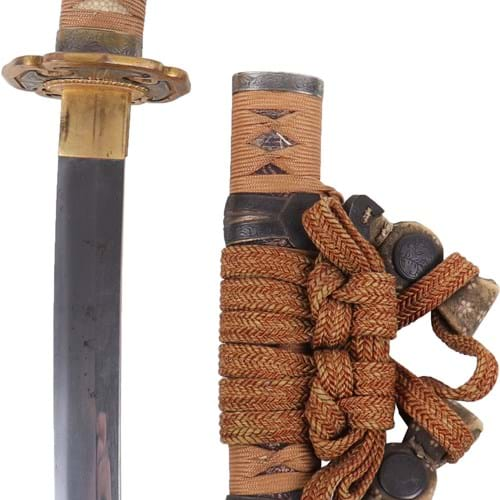 Japanese Court Sword Ito-Maki No Tachi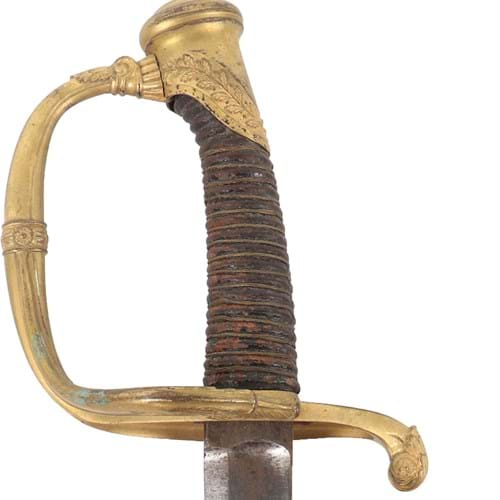 Rare Imperial Russian Infantry Officers Sword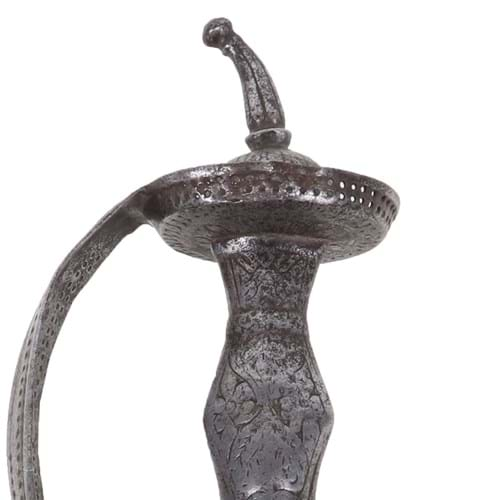 Indian Sword Khanda, 19th Century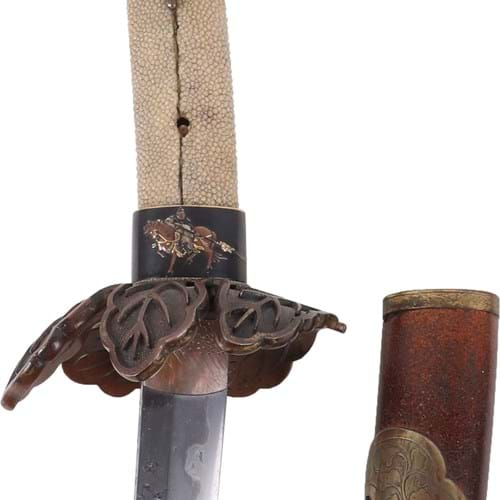 Composite Japanese Sword of Tachi Type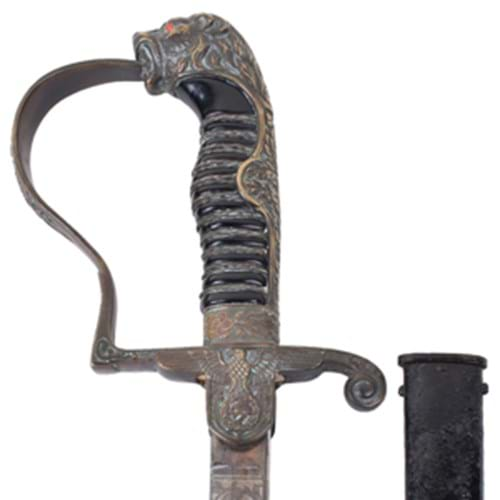 WW2 German Engraved Blade Army Officers Sword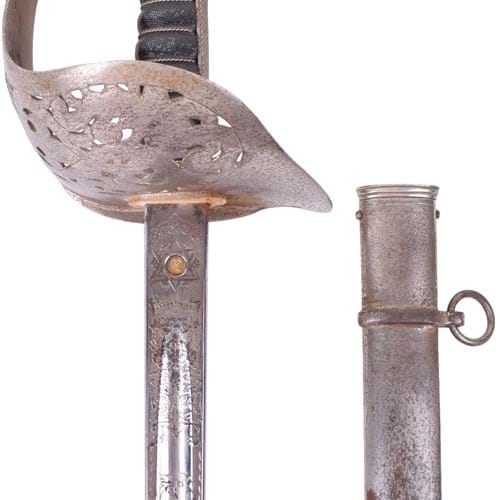 Royal Engineers Officers Sword, Sir Matthew Nathan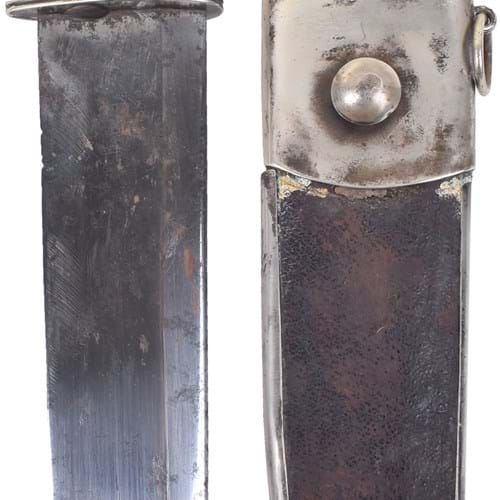 Hallmarked Silver Irish Constab Mameluke Sabre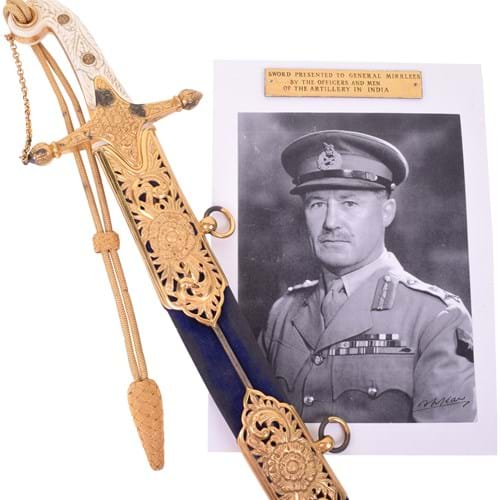 Indian Army Mameluke Sword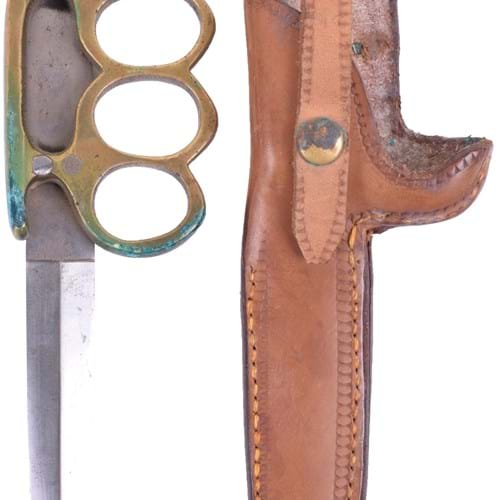 WW1 British Officers Private Purchase Knife
0
1
2
3
4
5
6
7
8
9
10
11
12
13
14