Toys of the Road from 1900 - 1930!
13/04/2023 | Leigh Gotch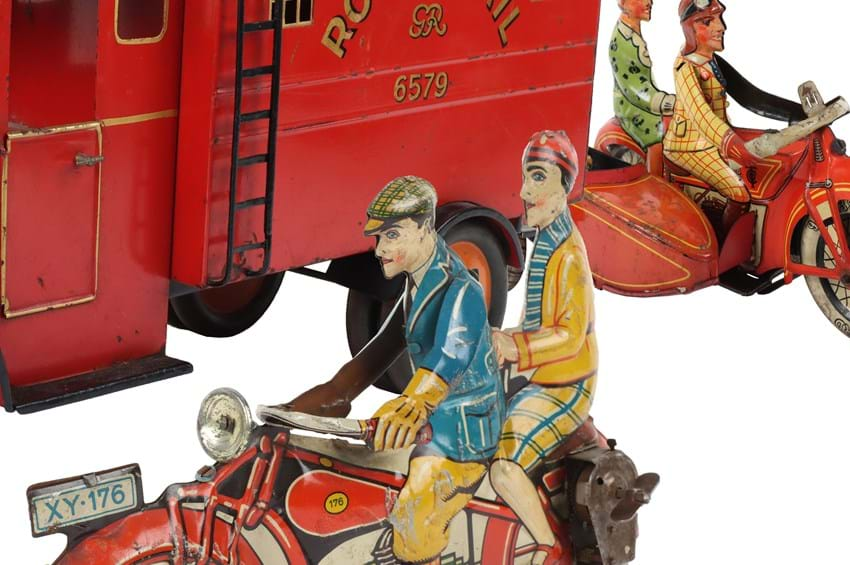 In our upcoming 3rd & 4th May specialist toy sale, we will be offering a good selection of tinplate toys of the road from the early days of road travel from 1900 to 1930... in this article we'll give you a little more information about them!
Motorcars
Firstly, one of the highlights we'll mention is an early tinplate clockwork 'Vis á Vis' Motorcar dating to the very early days of the motor vehicle. This dark blue painted toy was made in Germany around 1900, and still has its original seated driver! An an early survivor, this toy is 14cm (5 ½") long, and is estimated at £600 - £800.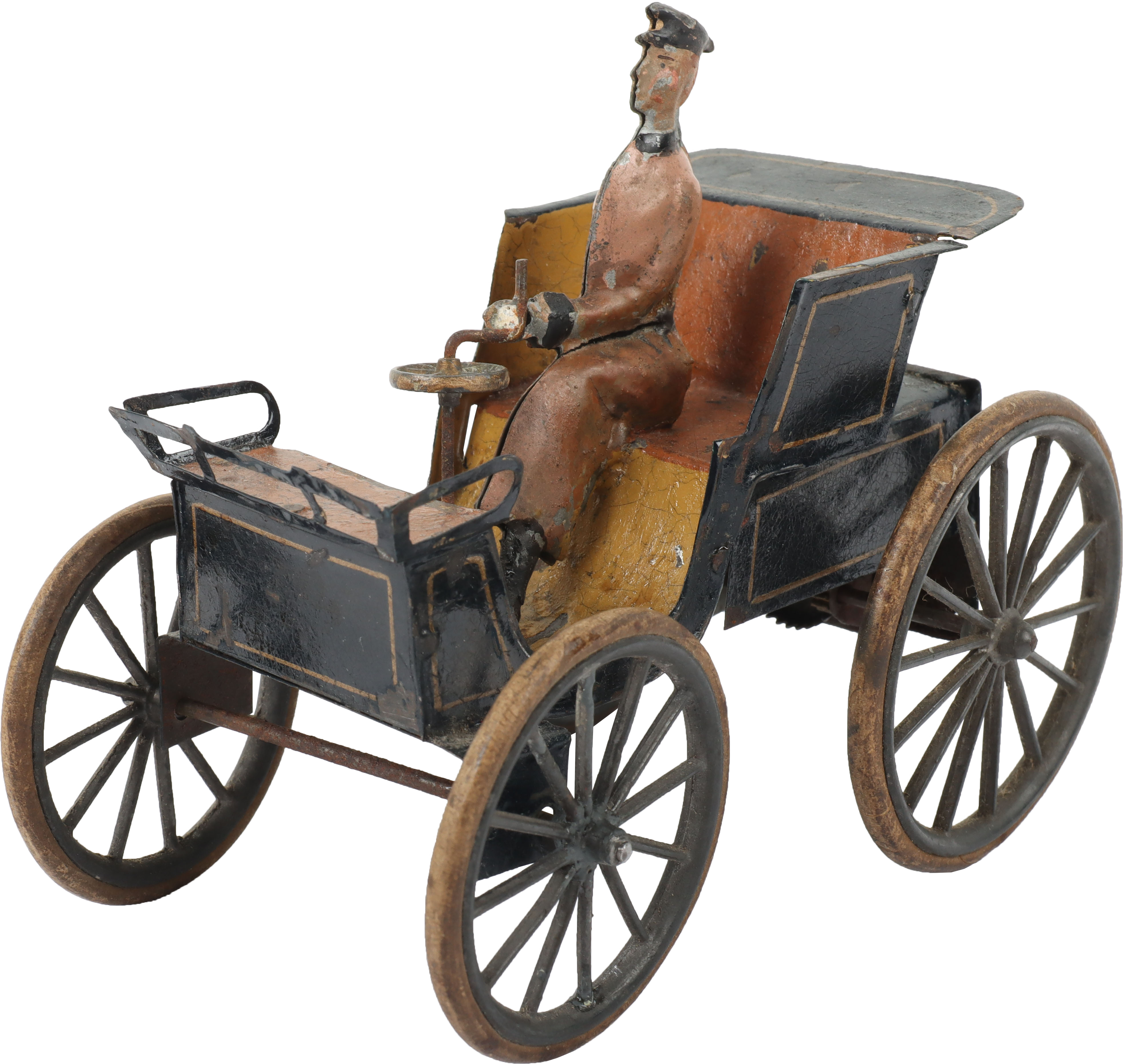 By 1904 we start to see the advancement in car design and this tinplate 'De Dion' two seater runabout by the German company of Bing is a superb example of the types of automobiles being seen for the first time on the roads of Europe and America... this toy is hand painted in cream with red and gold lining, and the maroon button seats are a great feature of the toy. With working hand brake and steering wheel, this would have been a great toy for any lucky child to have received! It's estimated to achieve £600 - £1,000 at auction!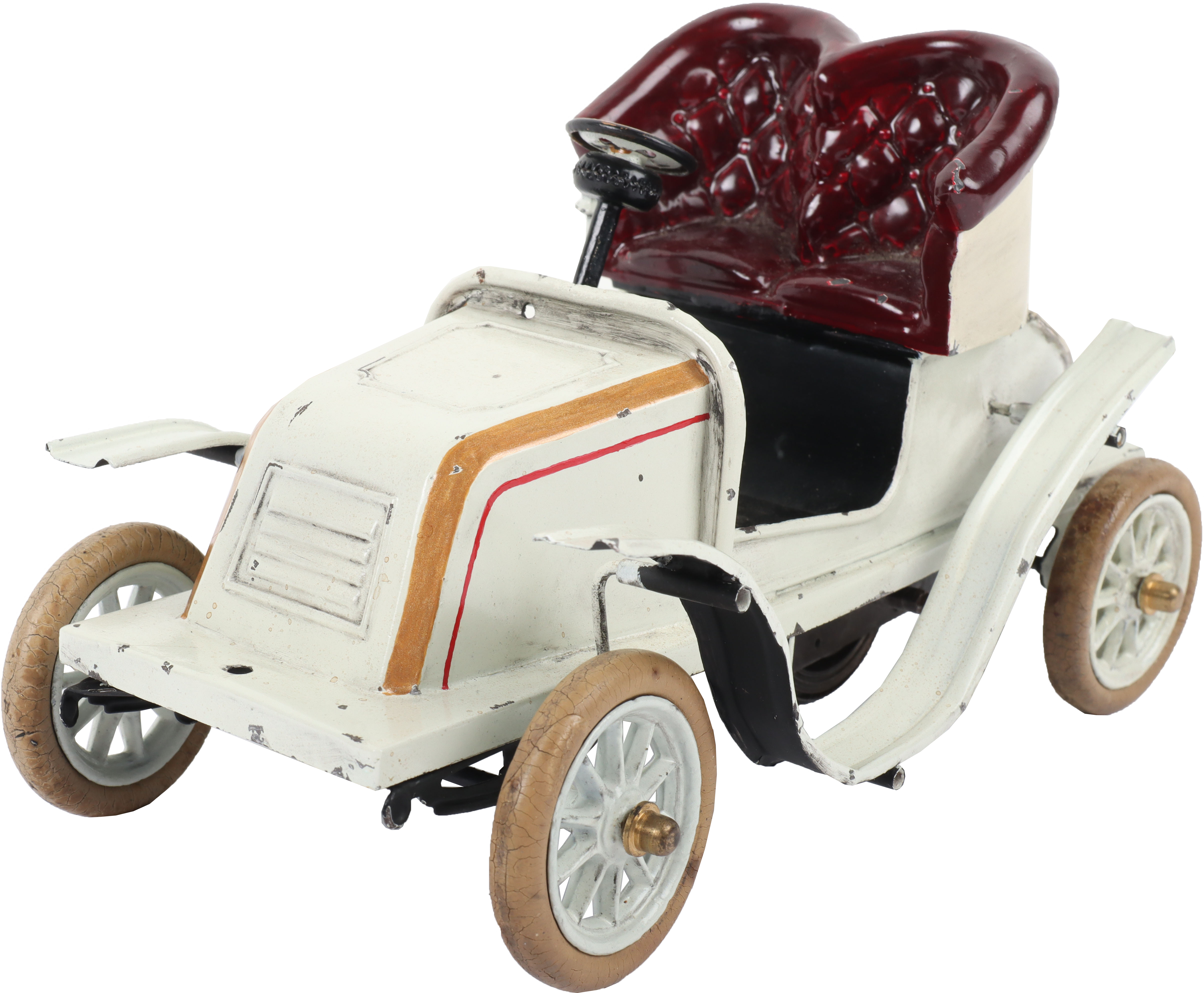 The development of the production line in the 1920s by Ford in America, made road travel affordable for the masses with the famous Ford Model T motorcar. This toy example of the Ford Model T is in excellent condition and is offered with an estimate of £200 – £300.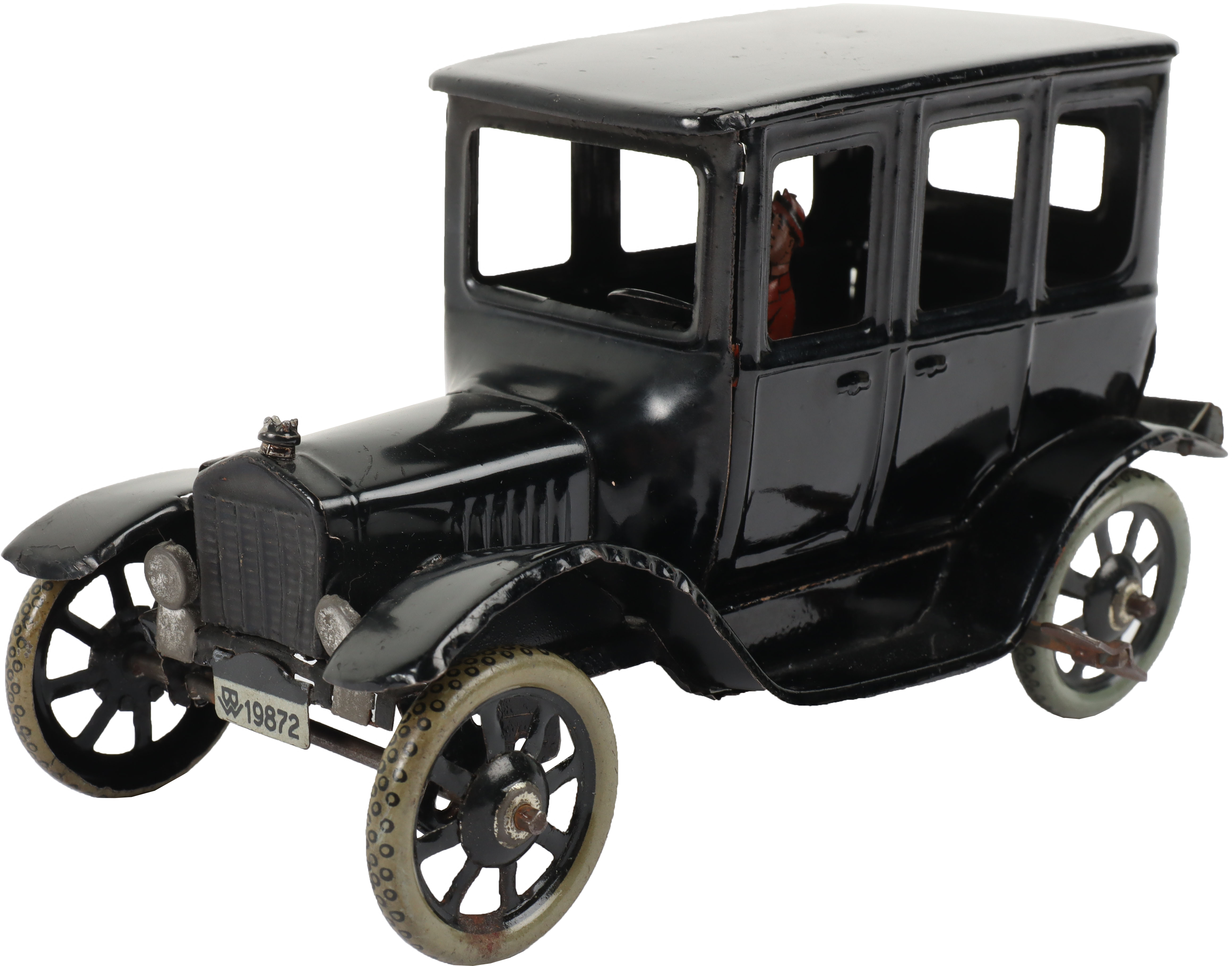 Motorcyles

The 1920s and 30s saw the popularity of Motorcycles coming to the fore, and our May toy sale will offer eight tinplate toy motorcycles dating from mid 1920 through to the 1960s! The two highlights in this transport category were made in Germany... the first, a large clockwork toy by Tipp & Co. This clockwork Motorbike with sidecar dates to 1926 and comes with the driver dressed in a yellow cheque suit and the lady pillion passenger wears a green patterned dress. To complete the idyllic family, their daughter sits happily in the sidecar enjoying the ride! At 26cm (10 ¼") long, this is an impressive toy estimated to achieve between £1,500 - £1,800 on the first day of the auction.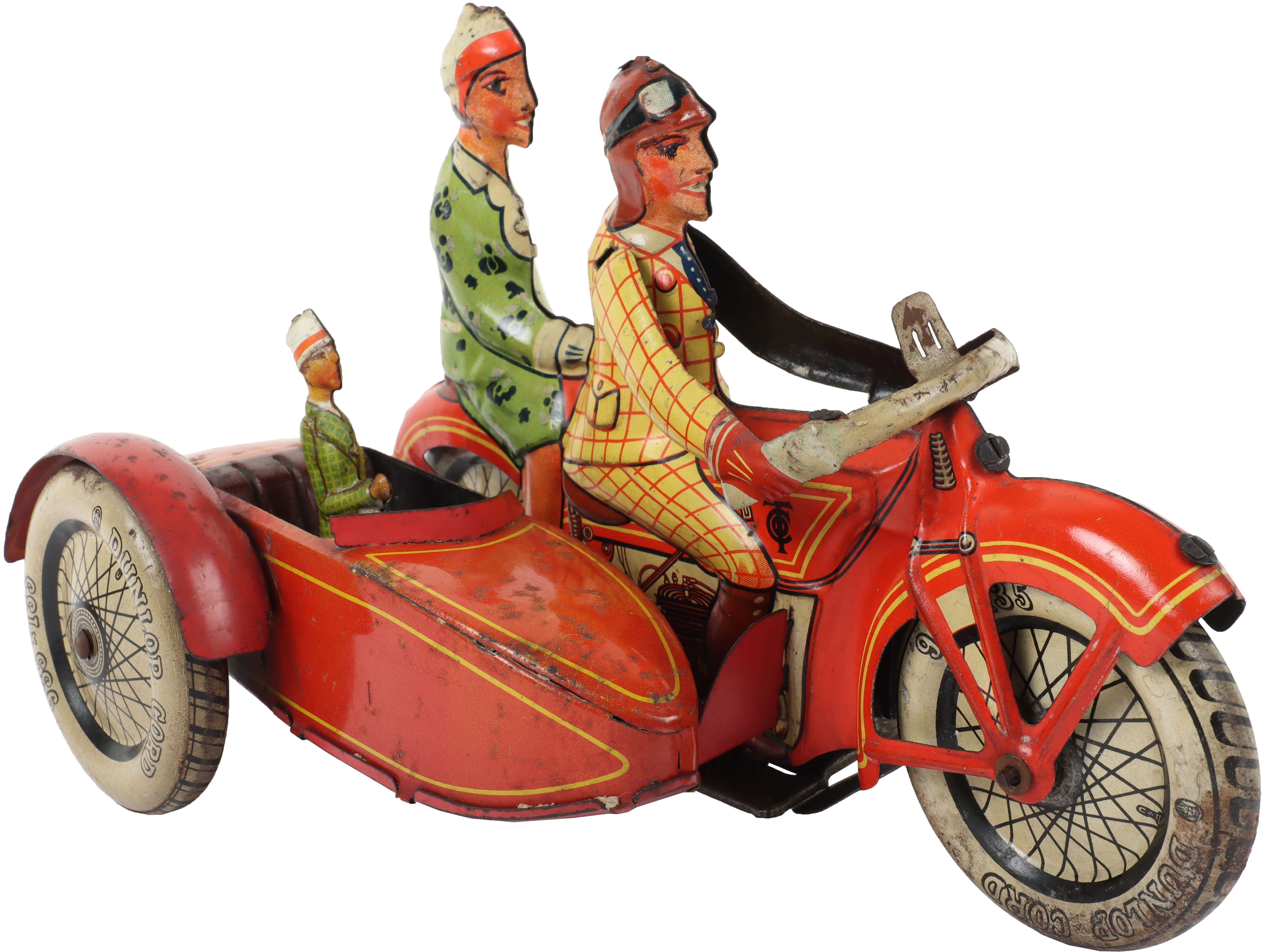 The second highlight of the Motorcycle toys being offered is this rare and large tinplate clockwork Motorbike with Lady pillion passenger by George Levy Gely of Germany dating to 1930. The toy is lithographed in various colours, with engine details, gentleman driver and lady pillion passenger. This large size example at 23cm (9") long, is estimated at £1,300 - £1,500...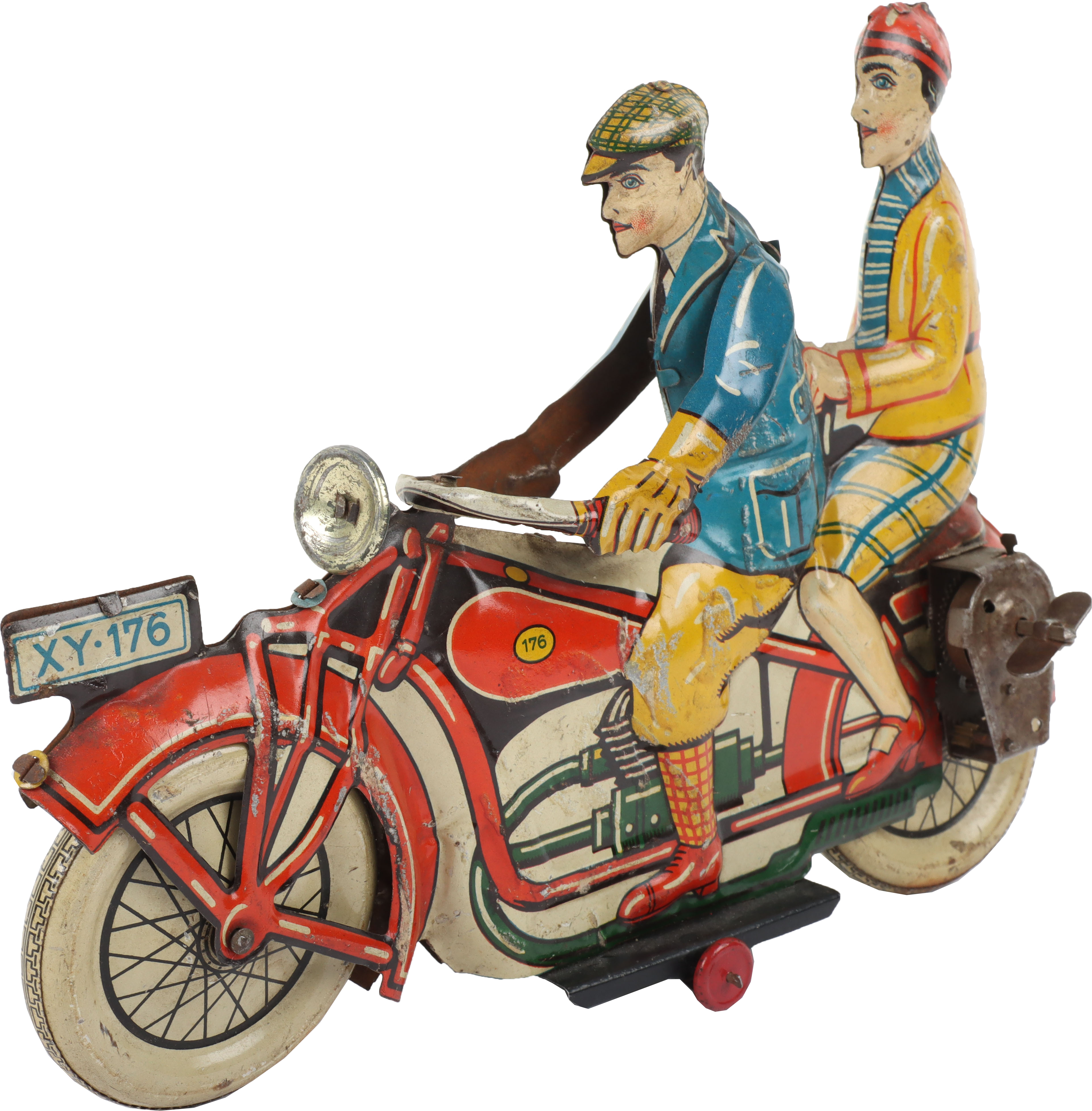 Other Vehicles...

Toy Royal Mail vans are always very popular with collectors and perhaps the largest example produced in the 1920s is this rare GR Royal Mail van by Bing of Germany. The toy is made of pressed steel and has gold Royal Mail GR 6579 writing to the sides, hinged cab and rear doors and gold lined windows and ladder to roof for the extra parcels to be delivered! This large 55cm (21 ¾") toy is a rare survivor as many of these toys were played with out of doors and succumbed to the elements of the weather... although play was naturally what these toys were intended for, we're glad this one is still intact and in this way will bring as much joy to its new owner as its original owner! The toy is offered with a guide price of £2,000 - £3,000.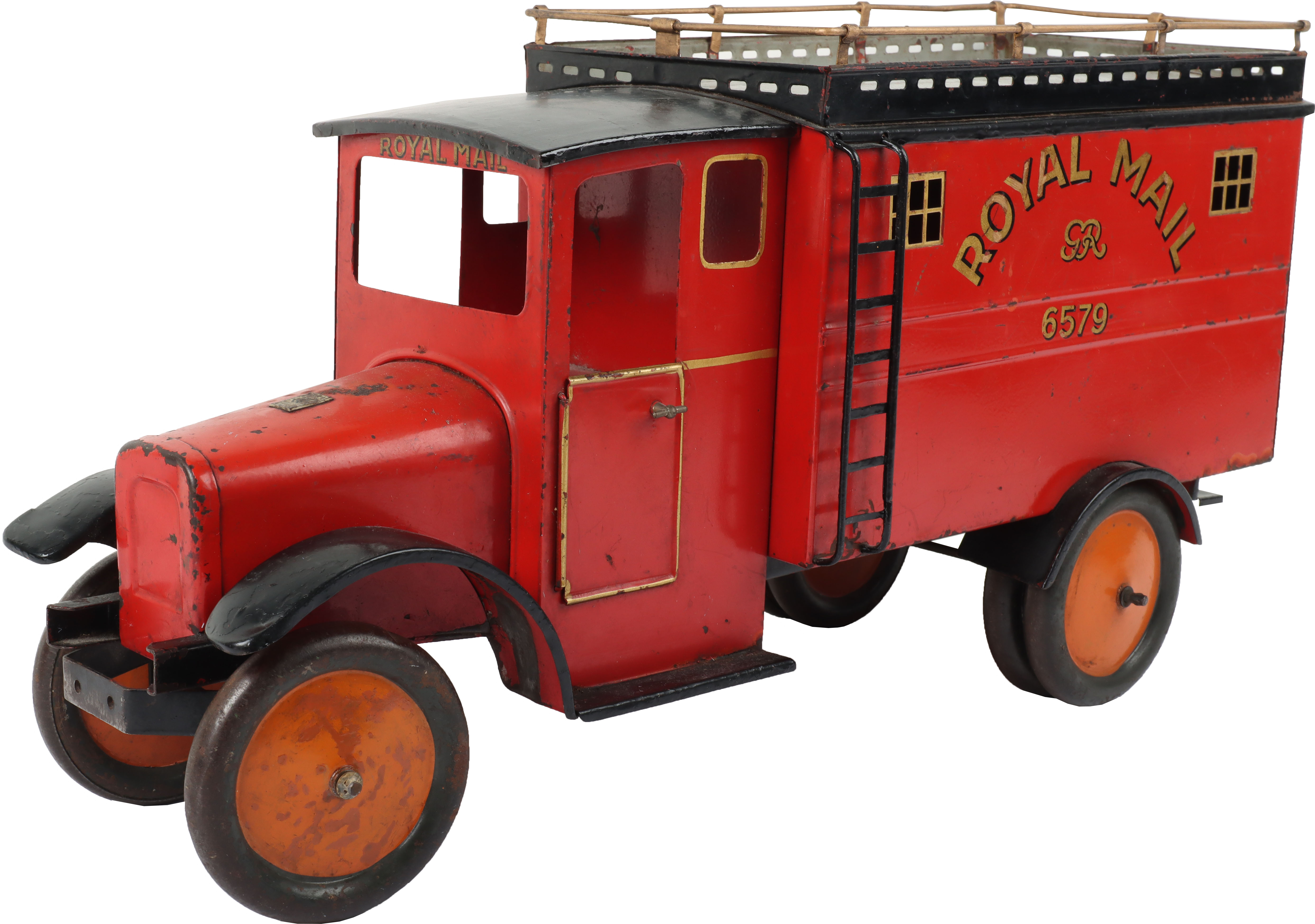 The need for speed is an addiction and throughout the 1920s and 30s (and to the present day) man has wanted to go ever faster with World Record land speed records constantly being sought and achieved. Perhaps one of the most famous of these Land Speed Record cars is the Golden Arrow, built in Britain to reclaim the World Land Speed record back from the U.S.A. The car was driven by Henry Segrave on the 11th March 1929 and achieved a speed of 231.44 mph, 24mph higher than the previously held American record. We are pleased to offer this Ranlite Bakelite model of the Golden Arrow, patented by A.G Ltd in 1929, in our upcoming toy auction! This iconic car is very popular with collectors today and is finished in maroon with black Dunlop Cord rubber tyres. It has a clockwork motor to rear wheels and steering wheel operating front wheels. 42cm (16 ½") long. This beautiful model has an estimate of £1,000 - £1,500.

All these lots will be going under the hammer on the first day of our 3rd & 4th May Vintage & Collectible Toy auction from 10:30am. The catalogue is now live, where you can browse these lots in more detail along with the many other beautiful lots we have to offer, and where you can register to bid in this auction! View full catalogue here!