'THE BOXER REBELLION' TINPLATE TOY BY LEHMANN OF GERMAN, CIRCA 1900
26/01/2022 | Leigh Gotch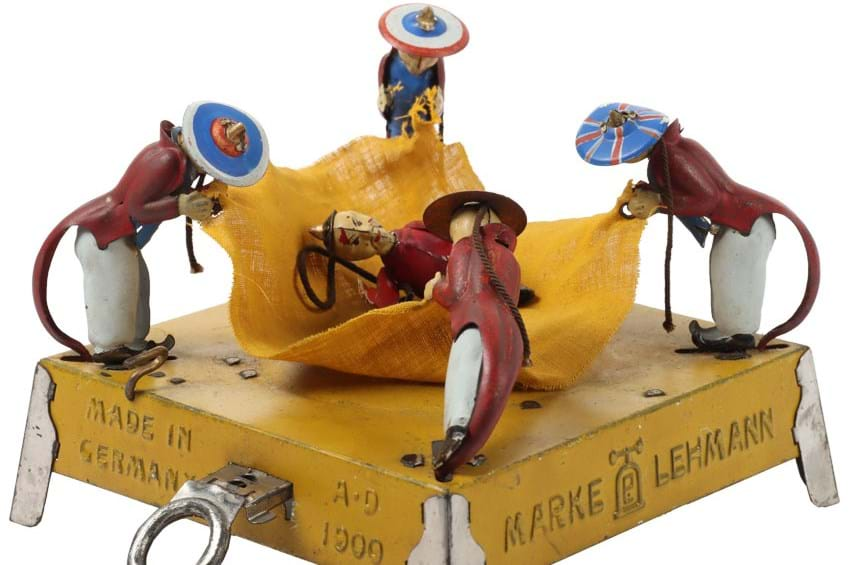 Perhaps the rarest of all Lehmann tinplate toys is 'The Boxer Rebellion', made around 1900 the toy portray the historical situation in China at the time, a secret organization mainly formed of Chinese Boxers rose up to drive all occupying foreigners from  China, Russia, England, France and Germany are depicted in the toy by four standing Chinamen wearing hats painted with the national flags of the four countries and holding a cloth canopy ready to toss the boxer rebellion figure, the toy has a complicated clockwork mechanism below its tinplate stand and when wound the four figures bend at the waist and then standing suddenly toss the Boxer into the air.
Perhaps because of the intricacy of the toy's construction which would have incurred high production cost or the dark undercurrents represented in the toy which didn't appeal as much to children very few were produced thus making this one of the rarest Lehmann toys. 
The example offered by C&T auctioneers on the 16th February is in original condition and offered with a guide price of £2,000 – 3,000.