Newsletter 17 – The Sale of Fine Toy Soldiers, Wednesday 7th April 2021 - Online only at 10.30 a.m. Including the Ruby Family Collectionand The Knott collection of Royal Canadian Mounted Police
17/03/2021 | James Opie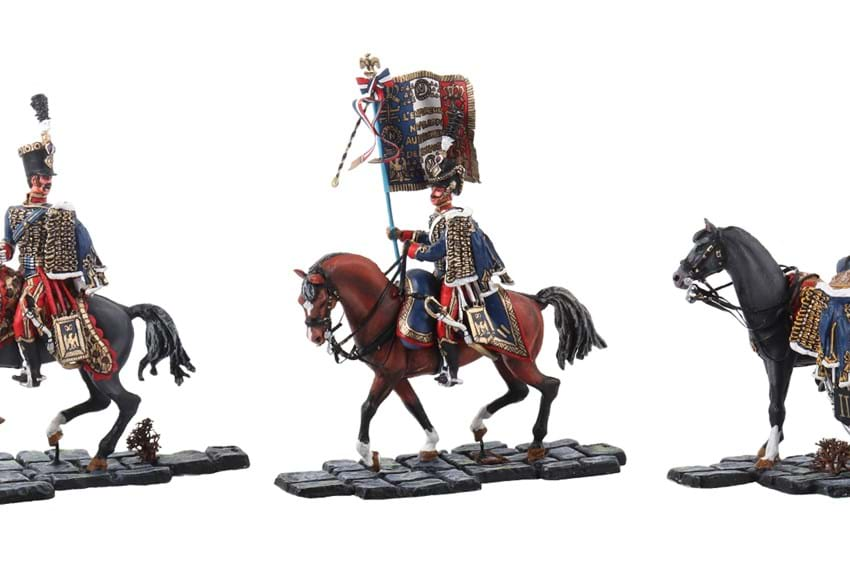 Newsletter 17 – The Sale of Fine Toy Soldiers, Wednesday 7th April 2021 - Online only at 10.30 a.m. Including the Ruby Family Collectionand The Knott collection of Royal Canadian Mounted Police
Over the last four months, I have been almost literally wading my way through the 139 cartons of toy soldiers and figures that arrived last year containing Ed Ruby's second collection of toy soldiers. This was the collection that happened when he had sold his first collection, possibly the finest collection of hollowcast Britains ever compiled. Freed from the necessity of filling in every number in the Britains list, he just let himself acquire stuff to refill his shelves whenever he saw anything that took his fancy.
Although there was a light sprinkling of holdover items from the original collection, Fort Henry Guards, Fusiliers, Highlanders and a few more, most of it was completely new. Britains French and Indian Wars, Zulu Wars, Napoleonic Wars and other historical occasions appeared in carefully arranged scenes. Not super detailed, but with appropriate backgrounds and accessories, this consideration of history and context showed Eddie relaxing and having fun.
It has been fascinating to me to translate each scenario into one or more lots, the 139 cartons transforming into lots 1 to 199, with a coda from lots 300 to 363.
My favourites? Where to start!? I had more or less to start from lot number one coming from the first carton I opened, and go on from there  in whatever order they came out of the wrappings. In this sale, you will not find things neatly arranged in types as I have done before now, they are a bit randomized. I promise you will find it an interesting pictorial read.
Some examples; 
Lot 1 - Britains Museum Collection Pipes and Drums of the Black Watch 1914, matte finish. Ed loved the Highlanders just as much as I have, and this has to be one of the best Pipe and Drum creations ever made. The Matte series of King and Country and many others have by now been giving the modeling community a run for their money for some time – at a price.
Lot 12 - Britains French and Indian Wars, North American Indians and Militia. This is an interesting period of history, during which Britain saw off the threat of French invasion of the British colonies in North America from Canada on the Heights of Abraham. Once this had happened, the colonists were able to move on to their own independence.
Lot 27 - CBG Mignot set 8008, Napoleon in camp at Boulogne. Ed was definitely fond of the history of the Napoleonic Wars, and what better way to demonstrate this than one of the splendid dioramic boxes showing Napoleon looking longingly across the Channel waiting for a chance to invade England. 
Lot 94-97 William Hocker American Revolution. These sets of the British Army and its Indian allies during the American War of Independence show his sure touch in building on Britains hollowcast heritage. Ed chose these, the North-west Frontier tribesmen and some from the Sudan campaigns as his favourites.
From lot 107 A magnificent Napoleonic era model from the hand of Graham Mollard. Ed was evidently considerably impressed, and included seven groups of models from GNM Miniatures in his collection. In my opinion, these superb models approach the expertise of Roger Berdou.
Lots 115-117 – King and Country. Churchill and his Generals, Tunis, 2nd World War. Eddie's second collection did not contain all that many figures from the World Wars, but these from the North African theatre touched a chord.
Lots 145-146 Britains War along the Nile. The Guards Camel Corps encounter a group of Mahdists. 
This sale also contains the first part of the Russell Knott collection of Royal Canadian Mounted Police figures. Russell Knott is a collector of RCMP material of every kind, including films, novels, comics, games, weapons, uniforms and toys as well as figures. He was recognized as one of the top five collectors of Mountie Memorabilia in the world, and the only one who did not live in Canada.  At its peak, just the figures part of his collection contained 6,000 items, and it still forms a very interesting opportunity to compare the skills of toy and model producers worldwide when dealing with a single subject.
This sale offers the initial 1,126 figures from the collection, concentrating primarily on plastic, composition and British hollowcast.
Lot 442 – Spirit of the Empire Mountie figures as sold at the RCMP Museum in Regina. Realistic, accurate and vigorous, these are the apex of quality figures of the famous police force, and about 58mm in scale. Although many Canadian families display or play with these, they are by no means so well known in Britain.
JAMES OPIE AT C & T AUCTIONEERS
FINE TOY SOLDIER AND FIGURES 
Webcast only WEDNESDAY 7 April 2021 at 10.30am  478 lots
Including the Ruby Family Collection lots 1-198 and 200-363
The Knott collection of Royal Canadian Mounted Police lots 442-452 and 463-474
All lots on display on www.the-saleroom.com and at www.candtauctions.co.uk
Ancient Britains: Shafted Limber RHA, later RHA and RFA, Cameron Highlanders, small size Life Guards in box, City Imperial Volunteers, plug shoulder Lancers, RMA, oval bases,  rocking horse Ulundi 17th Lancers, valise pack Rifle Brigade, Japanese Infantry, Greek Infantry, Boer Infantry, 
Golden Age: RHA, RAMC, RASC, Fusiliers, Highlanders, Waterloo troops, Montenegrin Infantry, Austrian Lancers and Foot Guards, Prussian Hussars, Italian Cavalry, Argentine Infantry and Cavalry, Middlesex Yeomanry, Soudanese Infantry, RARE French Foreign Legion with moustaches
Britains Postwar: RHA, Venezuelan Cadets, Mountain Artillery, Highlanders, Fort Henry Guards, Waterloo troops, Knights of Agincourt. Carabinieri, Belgian Chasseurs, Musical Ride
Britains recent issues:  GLOSS Limited Editions, Redcoats, Bluecoats, Petticoats, VCs, Metal Models, Hollowcast Collection, Knights of Agincourt MATTE Museum, American Revolution, Napoleonic, War along the Nile with Steamer, Zulu War with Artillery team and Rorke's Drift Hospital, French and Indian Wars, New Orleans, Tactical Scenes, Jane Austin, Delhi Durbar, King Arthur, Knights of Agincourt, Connoisseur Collection, American Civil War
Collectible figures, Matte: Conte, East of India, King and Country, Andrea Black Hawk, John Jenkins Designs, Frontline, Del Prado, Irish Toy Soldier Museum Gloss: Streets of Old Hong Kong
Royal Canadian Mounted Police: Spirit of the Empire, Britains, Timpo, Crescent, Hill, Benbros
Civilians: 59F round nose and 60F Farm Lorry, square nose, Suffolk Mares and foals, Footballers, Wagons, Carts, Implements, Flint stone wall, Huntspeople, Horses, etc. Moko Milk Float, Charbens  diecast vehicles, Timpo Elephant Hunt, Hugar building, New Toy Civilians: CBG Mignot Tour de France, Paris Fire Brigade, Stag Hunt, Tri-ang Cotswold Village, Metal Shed Mack Fire Engine 1918, Facades, Buildings, Scenery, Trees and Backgrounds
Continental figures: CBG Mignot Napoleonics, Coronation of Napoleon, Kings of France complete series, Fokker Triplane, Elastolin and Lineol, Simon et Rivollet, Potsdamer Zinnfiguren, etc.
Gloss finish New Toy Soldiers and conversions: Imperial, Beau Geste, White Tower Miniatures, Mark Time, Nostalgia, Hocker, Ducal, Steadfast, Fusilier, Tradition, Lancer, Blenheim, Bulldog etc.
High Quality Models by GNM Miniatures
Plastic Figures: Britains and Herald Farm, Buildings, Britains set 4715 Plastic Battleground, 17557 Knights of the Sword Castle, Swoppet Knights, Eyes Right ACW set 7451, Musicians, Deetail, Battle of Gettysburg, Western Ranch, Cowboys and Indians, Elastolin 9705 Nurenburg Castle, Historex and Airfix boxed kits etc. Royal Canadian Mounted Police: Starlux, Nardi, Eyes Right, Deetail, Cherilea Trade box
NEXT SALE DATE:  28 JULY 2021
Contacts:   JAMES OPIE Consultant: Tel. +44 (0) 20 7794 7447    E-mail jamesopie@yahoo.co.uk 
C&T Auctioneers: Web site www.candtauctions.co.uk
Unit 4 High House Business Park, Kenardington, Nr Ashford, Kent TN26 2LF
Catalogues and Bids Tel. (three lines) +44 (0) 1233 510050 E-mail enquiries@candtauctions.co.uk