Fine Toy Soldiers Tuesday 1st December 2020 - Newsletter 16
02/11/2020 | James Opie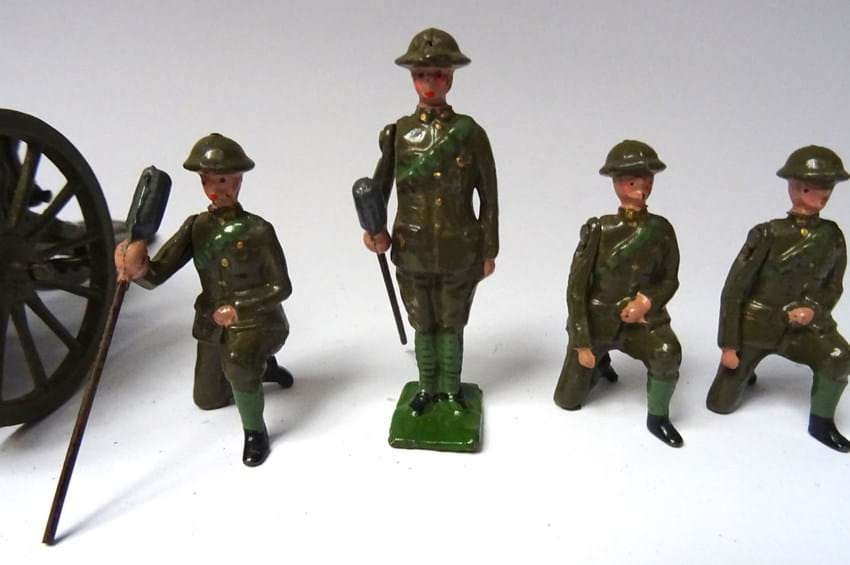 Dear Collector,
The random factors have aligned, and so we have two sales with toy soldiers within a week of each other. They are, of course, online only, but between the two of them they contain 473 lots, and feature 2,345 photographs illustrating 17,211 items. Both sales are now online both at 
www.the-saleroom.com and at the less expensive online service on the C & T website at www.candtauctions.co.uk.
The sale on the 1st December is similar in nature to that we had on April 29th last, a Collectables sale in which the contents are added to the list as they come in, so you never know what comes next. It's worth a good look through, because you might well pick up a bargain.
The sale on the 9th, just over a week later, is our regular bi-annual Fine Toy Soldier sale, and set out in the regular way with the hollowcast Britains and their contemporary competitors at the front, followed by everything else including civilians in the middle and plastic figures at the end.
CONTENTS Lot numbers No. of lots.  
Britains and British Hollowcast Toy Soldiers:
Early, pre-1919 Lots     1 to 40 41   
Golden Age 1919-1947 Lots      41 to 90 49
Twilight 1945-1966 Lots   91 to 138 48
Other than Britains and other hollowcast:
Britains New Toy Soldiers Lots 139 to 181 43
Other New Toy Soldiers Lots 182 to 229 48
Britains and other Civilian figures Lots 230 to 278 49
French and German Toy Soldiers Lots 279 to 315 37   
Plastic figures Lots 316 to 356 41
I have had a little more time to comment on some of my favourite lots, and also to reminisce somewhat. If you enjoy this sort of thing, please let me know!
Every lot has its story, and every collection that comes in – piecemeal or all at once, lets me reminisce about my own collecting and life. Two long term collectors, Walter Vernon and Dave King, share their collections with the rest of us in these December Sales in 2020, and both of them take me back to the time when I was participating in the sudden proliferation of New Toy Soldiers from 1973 onwards. I was particularly involved with the Scrobies, Jan and Frank, who used to have a stall in the Portobello Road, and sold me the first toy soldiers that they ever made. 
A little later, when they moved to Wales, I used to go round the London shops such as Hummels and sell Blenheim Soldiers to them on behalf of the Scrobies. A friend of mine at work did the artwork of Marlborough for the gold label on the blue boxes, and I wrote out the end labels, so I can always tell if a boxed set is one of the ones I sold.  I came across a box of 16th Lancers like this in Dave King's collection, and it released a flood of nostalgia.
I looked through the sale, and realized that there was plenty more to be nostalgic about, which is why when they come through my door for me to look at them for the first time gives me some of the best moments of my current life. I have made the following notes on my reactions to some of the lots.
Lot 5 – Britains set 37, Band of the Coldstream Guards, first version, with slotted arms. One of the most popular Britains ever made. One of the three sets to include the Bombardon in its ranks. This set has to have been made between 1908, when the new movable arm bass drummer was introduced, and 1911 when the movable arm musicians were first produced. 
Lot 7 – Britains set 89, Cameron Highlanders firing, first version, oval bases. Another iconic early set, first issued in 1901 with oval bases. This is one of my favourite sets, so typical of the British square, a safe tactic if your opponents in Africa could be dispatched before they came to close quarters.  The oval bases for the standing figures only lasted until about 1908. Complete matching sets of this version are rare. This set is made up from at least two original sets, one of which saw a fair amount of active service. The paintwork of these early figures is that much more elaborate than later versions. The more crosshatching is used on the tartan, the earlier is the date.
Lot 24 – Britains Paris Office, Japanese Cavalryman at the halt. This is the star figure in lot 25, and the only Paris Office figure in the sale. It brings back memories of the first time I ever saw a Paris produced figure, that might well have been one of the same type as this.
Lot 26 – RARE Britains 3rd Hussar on 'Scots Grey' horse. Britains updated their early models of cavalry from 1901 to 1903. The new horse created for sets 31 and 32, the 1st and 2nd Dragoons was dated 1.11.1902, and known to us thereafter as the 'Scots Grey' horse. The horse to replace the early 'Donkey Horse' used for sets 12 and 13, the 11th and 3rd Hussars was first made in the following year, dated 12.2.1903.  In the three month period between these two new versions being issued, a very few sets 13, of the 3rd Hussars, were issued using the 'Scots Grey' horse. This lot contains one of them – not in brilliant condition, but good enough to tell the story.
Lot 28 – VERY RARE set 87, small size 13th Hussars, second version, at the halt.
There were just six sets of small size figures that were included in the main catalogue list put out by Britains. All the sixpenny sets were put into a separate series starting with 1a. In seventy years of collecting, I have only seen this set once before this one. It is not in the best of condition, and with two figures missing, but here it is, and even more remarkably, it has its box lid with the label intact.
Lot 47 – VERY RARE second grade Japanese Cavalry, dark blue jackets. Now this is genuinely a figure that I have never seen before. It belongs to a group of second grade paint cavalry figures made in 1940, probably issued in trade boxes to shops requiring more stock that Britains could not otherwise supply because of the war. Maybe they had a surplus supply of Japanese officer castings. Painted in a minimum of colours, they nevertheless look very nearly as attractive as the first grade figures, and in this and the next lot there are fourteen of them!
Lot 55 – Royal Artillery in steel helmets with ramrods. The reason why Britains decided to equip two of the Royal Artillery gunners in this and set 313 with ramrods is not currently known. The gun 1201 included in this set is a breechloader, even as a toy, and therefore theoretically should not need a man with a ramrod. The only previous occasion that Britains had included a man with a ramrod in a set was way back in 1907, when the Royal Lancaster Regiment game board had included two to accompany the small size cannon, though even that was technically a breechloader. Maybe the ramrod was so iconic in symbolizing a gunner that Britains thought it was a good idea. The ramrod came into its own when the American Civil War and Waterloo Guns were issued in the 1950s.  This WWII issue of ramrods only happened between 1939 and 1941, and is almost as rare as the  Royal Lancaster version.
Lot 62 – EXTREMELY RARE set 1885. Strictly for those of us who enjoy having sets that very few others possess, this set was probably requested by a retailer who thought the digging man should have a wider circulation. Certainly the major lifesaving maxims of WWI were keep you head down and dig in, so a set including crawling and digging soldiers was very much to the point! Anyway, this is the first time I have ever seen an example of this set, so it has to be extremely rare.
Lot 96 – Sunshine Toys box. Not long after the Second World War, when everyone needed cheering up, Britains fulfilled a contract with a retailer, we don't know who but it might have been Woolworths, to supply them with toy soldiers, farm people and animals. This could explain why there are numbers of farm people from this period with second grade paint. There were no official Britains sets of second grade farm on the market. The boxes were made in several sizes, and could contain almost anything. The box art was done by someone who also produced similar artwork for a number of the official second grade soldier sets on the Britains list.  I discussed this series in my last toy soldier book 'Britains Toy Soldiers, the History and Handbook on page 174. Unfortunately for me, this new box that came in among the Walter Vernon Collection bears a box number of 4/29, which throws my theory of Britains special items always bearing 3/ in front of the number right out of the window. I live and learn.
New Toy Soldiers
Two of the nicest things in the King Collection are small masterpieces from the talented hands of William Cranston (Lot 215). The first is a depiction of the 'Death of General Gordon' just two days before the relief expedition reached Khartoum. I seem to recall there is a famous drawing or painting showing Gordon at the top of the stairs with a pistol, and Dervishes clustering around the entrance, and this is how it is shown here. I'm not sure if Bill Cranston made the building, but the figures are certainly made to fit the stairs. The second scene is of Cetshweyo and staff, with three very nicely made Kraal huts. Again, I am not sure of the maker, but they suit the figures beautifully. The figure literally shielding the King from the sun is absolutely superb.
Apart from these gems there are many more examples of figures going back to the early years of New Toy Soldiers: An example of the famous Mark Time Observation Balloon of the Royal Engineers with its Winch Wagon (lot 182), Bastion figures from the Boxer Rebellion series, Nostalgia figures including examples of the first in the series, the Hong Kong Submarine Engineers, Albion Indian Army Engineers with pontoon, roadway and landing stage,  Bill Hocker Indian Army Cavalry, a Ducal Gurkha Pipe Band and British Army Drum Horses,  Tradition Elephant Gun, Boer War 4.7" Gun with eight span of oxen, as well as a magnificent collection of Napoleonic sets.  There are even some of the Chinese I commissioned from the Scrobies myself for my own Boxer display.
Owing to our new website, following government guidance we need everyone to log in positively on the website to the list for receiving emails from C & T, so that we can remind you about forthcoming sales, or new ones inserted into the schedule.
Remember that you can bid online via the Saleroom.com (4.95% + VAT extra for this service), or you can place bids by telephone on +44 (0) 1233 510050 or e-mail.  But perhaps best of all, you can for this sale use C & T's new online real time bidding service for no extra charge (buyers premium at 24% including VAT of course still applies).
PLEASE do not send bids to my email addresses on the day before or the day of the sale, as I will not be able to transfer them.  Send instead to enquiries@candtauctions.co.uk, and the bids will be entered. Any queries about the content can be answered at my normal email jamesopie@yahoo.co.uk, or on my 'phone: +44 (0) 20 7794 7447 
All good wishes, 
James
Sale highlights summary- 
TOY SOLDIER AND TOY COLLECTABLES 
TUESDAY 1 December 2020 at 10.30am 117 lots of Toy Soldiers
Britains of all sorts – Del Prado – Models – Crescent – New Toy Soldiers - Exploration of Africa – Waterloo Wargaming – Gordon Relief Expedition - American Civil War - Limited Editions – Asset –
Niena Knights - Timpo - American Revolution – Napoleonic Series – Skybird Trenches - Misc. Etc.
FINE TOY SOLDIER AND FIGURES 
WEDNESDAY 9 December 2020 at 10.30am  356 lots
All lots on display on www.the-saleroom.com and at www.candtauctions.co.uk
Ancient Britains: Shafted Limber RHA, 2nd version RHA and RFA, donkey horses, rocking horses, cross legged Lancers, pony horses, tin sword Dragoons, Household Cavalry etc. Mountain Artillery,
sets 89 and 114 Cameron Highlanders, sets 88 and 112 Seaforth Highlanders, set 11 Black Watch,  plug handed highlanders, French Dragons, RAMC Ambulance, PARIS office Jap. mounted at halt,
set 87 small size 13th Hussars, Boer Infantry and other Boer War, slotted Coldstream Guards Band
Golden Age: RHA, RAMC, RASC, RARE Japanese Cavalry, set 102 Guards display, set 1757 Barrage Balloon, set 1282 RA with ramrods, RARE set 1885, Spanish Cavalry, South Australian Lancers
Britains Postwar: RHA, Danish Garde Husar, Sunshine Toys box, Uruguay Military School Cadets, Picture Packs, 17th Lancers in full dress, Royal Navy and Marines, various attractive repaintings
Civilians: Britains Roundabout, 59F Farm Lorry, square nose, Village Idiot, Suffolk Mares and foals, Footballers, Waggons, Carts, Implements, Horses, Racing Colours, etc. Moko Milk Floats, Charbens and Morestone diecast vehicles, Salco Window Cleaner, CET Cowshed, New Toy Civilians: King and Country Dickens series, Ducal Firemen, Clowns, DP Miniatures Buck Rogers
Continental figures: 100mm Heyde Prince of Wales, 30mm Indians, No.2 size British Ceremonial display box, Dorfler Prussians, Elastolin and Lineol, CBG Mignot including boxed small size Artillery Train, Simon et Rivollet, Flat figures etc.
New Toy Soldiers and conversions: Britains Limited Editions, Delhi Durbar, Crimea, WWI Aircraft, Premier, Metal Models, Life of Queen Elizabeth II, Scottish Regiments, 17th Lancer Special, Waterloo Diorama, Trafalgar bi-centennial series. Mark Time, Bastion, Nostalgia, Albion, Hocker,  Replica, Ducal, Tradition, Jacklex, Lancer, Blenheim, Cranston and Bulldog etc.
Plastic Figures: Britains and Herald Farm, Buildings, 9527 Long-wheelbase Land Rover, Ballet, Bicyclists, Deetail, Swoppet Infantry, Lilliput Combat Infantry, Battle of Gettysburg, Timpo Farm Buildings, Modern Army collection, Western Ranch, Cowboys and Indians, Matchbox Combat Troops, Starlux Napoleonic, Historex and Airfix boxed kits etc.
NEXT SALE DATE:  MARCH 2021
Contacts:   JAMES OPIE Consultant: Tel. +44 (0) 20 7794 7447    E-mail jamesopie@yahoo.co.uk C&T Auctioneers: Web site www.candtauctions.co.uk
Unit 4 High House Business Park, Kenardington, Nr Ashford, Kent TN26 2LF
Catalogues and Bids Tel. (three lines) +44 (0) 1233 510050 E-mail enquiries@candtauctions.co.uk