James Opie's Toy Soldier December 2021 Auction Newsletter
23/11/2021 | James Opie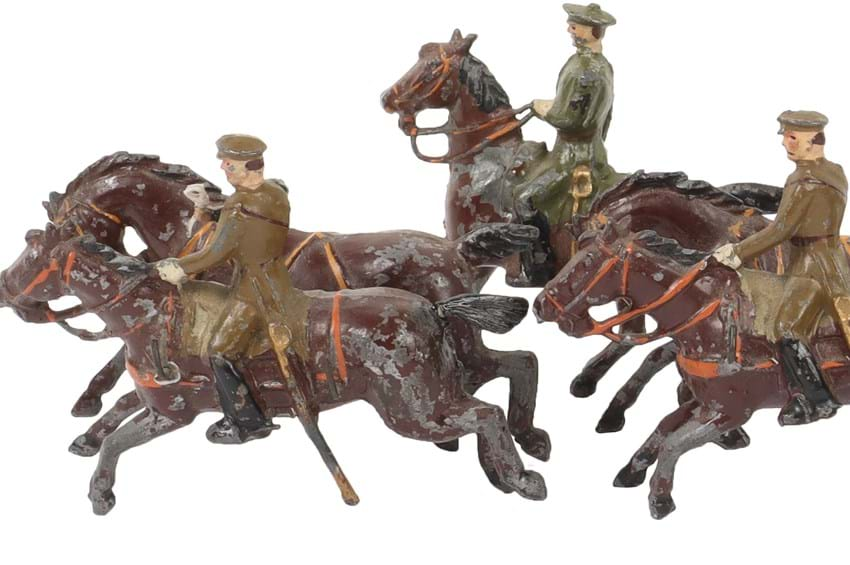 Star of the sale is lot ten, the exceptionally rare BMC World War I Royal Horse Artillery in service dress The only other example I have ever seen (let alone held in my hands is in Andrew Rose's book: 'Toy Soldiers', Salamander 1985 page 57) it has a six horse team with original Simon and Rivollet Limber and 75mm Gun, mounted Officer and two seated Gunners. Probably made around 1922, this is not the same one as in Andrew's book, and I think that the 'Russian' mounted officer shown also in his book is actually the officer for this gun team, because one turned up with this set also – the greenish khaki is a slightly different colour to the drivers and seated gunners. This one has a few defects, but there may be only one other person in the world who has one!
Lot 5. Britains set 2186, RARE Bahamas Police Band with Bandmaster. Most collectors know about this last hollowcast band, which was simply a factory repainted Royal Marines band with different instrumentation made to fulfill an order placed by the City Pharmacy, Nassau, Bahamas for sale to tourists. As such it has become a great and famous rarity.
Lots 100 and 102. Lord Roberts of Khandahar is to the left, riding his favourite horse Vonolel, while George rides one of his his own favourites, Blueskin. Both figures are part of Heyde's rancge of personality figures that came in various sizes. These two are at the large end, standing about 120mm tall including their horses.
Lot 56 King and Country WWII SAS Recce Jeep set EA25 in original box. Redolent with danger and excitement, these vehicles, loaded to capacity with fuel, water and ammunition, roamed the western desert looking for new activity from the Afrika Korps and Luftwaffe.
Part of lot 59 Tradition's rendering of Frederick the Great's favourite Regiment, the Potsdam Grenadiers. They were especially selected for their imposing height. Frederick leans on his cane at the centre of the picture. I suddenly wondered iff he had lost his right hand, but it's just  the white glove he is wearing fading into the background!
Part of lot 61 the Navy also marches on its stomach.. Little Legion offers this new twist on the supply problem. I have always thought that the wonderful variety of Naval Brigade landing parties that we collect really need support of this sort to stay alive.
And go to lot 163 if you need to go where no man has gone before. Herald's Polar Survey Party was one of their most complex models, even the ir goggles were individually painted with metallic tint.
Now, just to show we can do fluffy as well, there is lot 314. Srarting with the famous Taylor and Barrett Cat in a basket with four kittens, it goes on right through the series with the Dog, Hen, Duck and Rabbit, each with their minuscule and oh so easily lost young. Altogether there are ninety-one creatures in this lot, most of them quite small and interesting.
The overall summary of the sale follows on from our final picture of a nicely finished Andrea Concord Stage Coach under attack, representing a fine display of modelling, finished or not yet started, to complete a pretty comprehensive tour of  the various collecting and creative activities that my sales represent. Notice that right now they seem to be heading for a crash, but if you buy it, you can remove the boulder.
JAMES OPIE AT C & T AUCTIONEERS
FINE TOY SOLDIER AND FIGURES 
Webcast only WEDNESDAY 8 December 2021 at 10.30am  343 lots
All lots on display on www.the-saleroom.com and at www.candtauctions.co.uk
No extra online premium if you buy through the C & T Website
Normal buyers premium of 24% inclusive of VATstill applies
Ancient Britains: Band of the Coldstream Guards, Royal Horse Artillery and Royal Field Artillery  gun teams, ASC Wagon, Austrian Foot Guards, British Cavalry, 13th Hussars on pony horses with a good assortment of loose figures.
Golden Age: 9th Lancers, Seaforth Highlanders, Royal Marines, Foot Guards, WWI, AA Equipment, RE Pontoon Section, Arabs on Camels, Motor Transport, with a good assortment of loose figures.
Britains Postwar: Set 2186, Bahamas Police Band, Mountain Artillery, RASC Ambulance, Guns, RHA Gun Team, Egyptian Camel Corps, Dragoon Guards with a good assortment of loose figures.
Other hollowcast: EXCEPTIONALLY RARE BMC Gun Team, Timpo and Charbens G Is, Timpo Quentin Durward, Knights, Wild West, Crescent Gun Teams, Hill Abyssinian War, T&B Air Raid Precautions and a good selection of individual figures from 1900 to 1952.
Britains recent issues: GLOSS Limited Editions, Premier, Metal Models, Trooping the Colour.
Collectable figures, Matte: Conte and Britains ACW, King & Country WWII SAS Recce Jeep and assorted others, Del Prado Men at Arms, Napoleonic, Cavalry through the Ages, Medieval Personality Figures, Oryon Napoleonic etc.
Civilians: Britains Hunting Series, Miniature Gardening, Fordson Major Tractor, CBG Mignot Paris Fire Brigade, Taylor and Barrett Brewer's Dray, Water Cart, Chimpanzee Tea Party and animal mother and baby sets, Crescent Fordson Dexta Tractor with various Farm, Zoo, Accessories, Wagons and miscellaneous figures.
Continental figures: Heyde 0 size Lord Roberts and George Washington, Lucotte and CBG Mignot Napoleonics, Napoleon at Boulogne, Napoleon and his Marshals, Early 100mm scale Elastolin, 788/2 tinplate limbered twin AA machine gun trailer, Belgian Composition Ski figures, French hollowcast figures, Kaden tinplate vehicles, Distler 1/24 Waterloo series, Marklin Field Gun. 
Gloss finish New Toy Soldiers and conversions: Tradition Potsdam Grenadiers, Coldstream Guards Band 1815, Hocker, Ducal Mascots mascots and handlers etc. Blenheim, Trophy, Royal Omani Air Force Guard of Honour, Hiriart South American forces, 18th Century figures, Steadfast, Caberfield Miniatures, Fusilier, Music in Miniature,  Rank and File, Regal, Militia, William Cranston,
Models large and small many HIGHLY DETAILED, also castings and unassembled kits: Mountford, Andrea, New Hope Design, Tradition, Drumbeat, Scale Link, Imrie Rislie, Andrea, Sarum, Rose, Cheshire Volunteers, Ensign, Alan Caton and others
Plastic Figures: Elastolin, Preiser, Airfix, Britains English Civil War, Polar Survey PartyEyes Right Ceremonial and ACW, Deetail WWII in original trade boxes, Lone Star, Crescent, Timpo and model kits – 40 lots.
NEXT SALE DATE: Wednesday 1st June 2022
Contacts:JAMES OPIE Consultant: Tel. +44 (0) 20 7794 7447    
E-mail jamesopie@yahoo.co.uk 
C&T Auctioneers: Web site www.candtauctions.co.uk
Unit 4 High House Business Park, Kenardington, Nr Ashford, Kent TN26 2LF
Catalogues and Bids Tel. (three lines) +44 (0) 1233 510050 
E-mail enquiries@candtauctions.co.uk