James Opie's Newsletter 20 – the Sale of Fine Toy Soldiers Wednesday 1 June 2022 - Online only at 10.30 a.m. Including The David Hawkins Collection of Elastolin figures
23/05/2022 | James Opie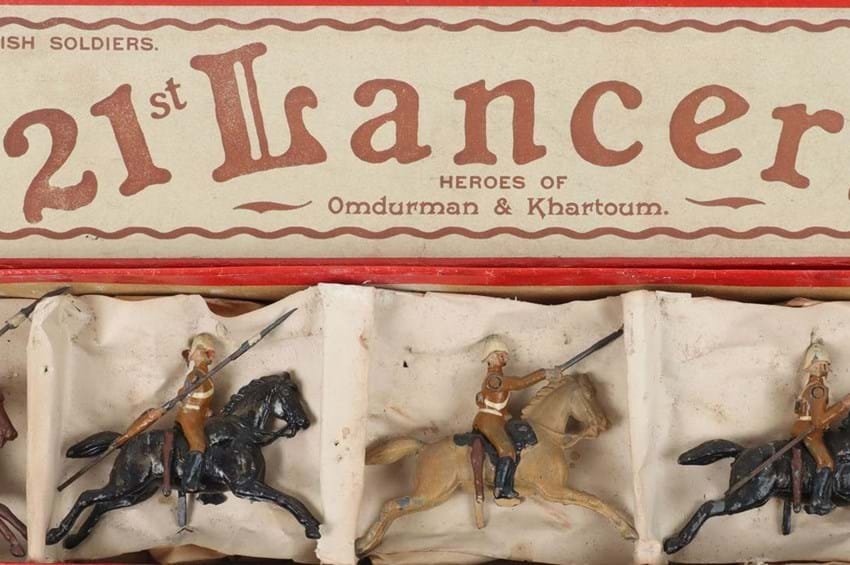 Dear Collector,
The first C&T toy soldier sale of 2022 features 548 lots, with 2,883 photographs illustrating 23,584 items.  The sale is now online at www.invaluable.com,
www.the-saleroom.com and at the less expensive online service on the C & T website at www.candtauctions.co.uk.
Owing to our new working practice, the sale works mainly on a first delivered first catalogued basis, so there are no specific sections within the lots, but as usual there is a wide spread of interests.
CONTENTS No. of lots.  
Britains 
Early, pre-1919 44   
Golden Age 1919-1947 29
Twilight 1945-1966 50
Hollowcast other than Britains 27
Britains New Toy Soldiers 24
Other New Toy Soldiers 81
Matt model style figures    5    
Britains and other Civilian figures 44
French Toy Soldiers including CBG Mignot 15
Composition, Elastolin, Lineol etc. 95
Heyde and other early German figures 34
Models and miscellaneous 30
Plastic figures 70
A few favourites
As is so often the case, systems don't always support the format you would like, so I am only allowed to use one picture in this newsletter. However, I can point you to a number of the very good things on offer, and then you can jump straight to them to whet your appetite:
Lot 6 Britains for CF Eckhardt RARE complete City Imperial Volunteers Escort
The City Imperial Volunteer escort to the Army Service Supply Column set that James Holladay commissioned from Britains for the toy wholesaler C.F.Eckhardt around 1907. Holladay had been in the CIV during the Boer War, and supplied the set to the trade from at least 1907 until 1913, when we know he was selling it to Gamages, as it appeared in their 1913 Christmas catalogue.
The complete set has two four-horse wagons as well as the escort. It is one of the must have sets for keen collectors, and when complete, is priced accordingly.
Holladay went on to own C.F.Eckhardt from 1916, and changed its name to his own. Later he was the power behind Skybird, the pioneering 1/76 scale aircraft.
Lot 44 Britains set 139, French Chasseurs
These beautiful French Chasseurs will be offered as lot 44 in the 1 June 2022 sale. They are Britains set 139, and the troopers are double dated 12.12.1902 & 9.5.1905. One of the troopers does not match the rest, has no dates and has a replaced arm so that the whole group have the early short carbine. This means the set is offered at a considerably reduced price - but can you spot which of the troopers is the mismatched one?
Lot 45 Britains RARE special figure 15th Hussar
He is a British 15th Hussar, a regiment that never appeared in a regular Britains set. He would have been ordered around 1938 by a collector direct from Britains. For other examples like this of 4th Hussars on 'Scots Grey' horses, see 'The Great Book of Britains' page 324. Regular Britains sets never featured Hussars on that horse. In this example the original owner painted the words 15th Royal Hussar under the horse to remember which regiment it was supposed to be.
By a truly amazing co-incidence, the special figure in this lot matches the 15th Hussar officer offered in lot 425. Well worth having, even though his sword is missing. They have come from different sources, but I wonder if they were originally from the same set commissioned from Britains, and have since circulated among collectors.
Lots 76 to 78 The legacy of Frederick Ping
These fascinating models by the inheritor of the Courtenay moulds have been entered in the sale by the creator's grandson.
The attic – lots 79 to 116
All collectors dream of finding an attic full of early Britains or Heyde! Well, here it is, both at the same time. Not long after the battle of Omdurman in 1898, some young general set out on his own Sudan expedition. Most of the British infantry are still in red coats, but the magnificent 21st Lancers are almost intact in five boxed sets (don't forget lot 6, the best of them, right at the front of the sale). A fair number of the other figures have been embellished, but there are rare figures here in quantity. The Heyde native village and camel train are great back-up to the whole scenario.
The David Hawkins collection of Elastolin figures – lots 117 to 219
It is worth having another good look through David Hawkins additions to the second editions of The War Toys, Volumes 1 and 2, Elastolin and Lineol and then examining the figures that were his personal favourites.
The Laird of the Isles Collection – lots 444 to 490
A love of the middle ages, from Saxons to Tudors was the driving force behind this lifelong pastime, that included the creation of extensive genealogies and kingdoms across the period. Many of the figures are named underneath the bases as part of the game plan. This incidentally included the acquisition of 193 rare Reynolds Vikings, more than I have seen elsewhere over the entire course of my own toy soldier career put together.
The return of Soldiers' Soldiers – lots 502 to 546
Soldiers' Soldiers was the brainchild of John Tunstill, who since the early 1970s until 1983 ran The Soldier Shop in Kennington Road, London, near the Imperial War Museum. The original range, largely of the British Army in the full dress or foreign service order of 1890 to 1914, was devised by John, helped by designer Andrew Rose, to complement Britains hollowcast. In order to make available the largest possible range, including bands (even seated bands) and colour parties, they made basic mouldings of  heads, bodies and arms in different poses, and added packs, instruments and weapons as appropriate. 
In this way Soldiers' Soldiers were able to fulfil most requests for British regiments on demand, although as far as I know they never included mounted troops in their range. After Andrew Rose went on to other ventures, Derek Morrison did designs for further figures including an excellent Roman soldier and a ferocious Fuzzy Wuzzy. Even after his shop closed, John Tunstill moved his stock of figures with him and whatever else he was doing continued to sell Soldiers' Soldiers until his death in November 2021. 
Now those remaining from his stocks will be coming to auction at C&T, standard sets in the original flat boxes, and 'Specials' in the chunkier 'cube' boxes.
My usual highlight summary of the entire sale is shown below.
JAMES OPIE AT C&T AUCTIONEERS
FINE TOY SOLDIERS AND FIGURES
Including the David Hawkins Collection of Elastolin figures 
Webcast only WEDNESDAY 1 June 2022 at 10.30am  548 lots 
All lots on display on www.the-saleroom.com and at www.candtauctions.co.uk now
Ancient Britains: CIV ASC Escort, Boxed sets 94, Omdurman 21st Lancers, set 101 'Red' Mounted Band of the 1st Life Guards, Infantry of the Line, RMLI, wasp waisted Middlesex Regiment, Boer Infantry, Scots Guards, Set 2 Royal Horse Guards FIRST VERSION and THIRD VERSION, 11th Hussars, RHA and RFA gun teams, ASC Wagon, Royal Navy, Mountain Artillery, 
Golden Age: Recently dicovered new figures Khaki Infantry at attention, Special 15th Hussars, Paris Office, Highlanders, Royal Horse Artillery, Arabs on Camels, Armoured Car, Motor Transport, AA equipment, 3rd Hussars, 13th Hussars, 12th Lancers, 7th Dragoon Guards in original boxes, General Staff, Indian Army etc. with a good assortment of unboxed sets and loose figures.
Britains Postwar: Set 2186, Bahamas Police Band, 2077 RHA, RAMC Ambulance, Mountain Artillery, Guns, AA equipment, Army Vehicles, and Centurion Tank, set 2153 late band of the Royal Marines, plastic drums, Knights of Agincourt, RARE paint variant Despatch Riders.
Other hollowcast: Crescent RARE early miniature Armoured Car and Gun boxed set, Timpo Quentin Durward, Ivanhoe, King Arthur and the Round Table, Medievals, Benbros Robin Hood, Reynolds Vikings and Pirates, and a good selection of individual figures from 1900 to 1952.
Britains recent issues: GLOSS Limited Editions, Premier, Metal Models, Toy Soldier Collection, Rorkes Drift, complete Queen Victoria presentation of colours to the Scots Guards.
Collectable figures, Matte: Frederick Ping, Del Prado Napoleonic, Cavalry through the Ages, Medieval Personality Figures, Oryon Napoleonic, Britains American Revolution etc.
Civilians: Britains Famous Football Teams, Miniature Gardening, Zoo boxed sets, Charbens Road Works, Barrel Organ set, Coal Cart, Britains Fordson Major Tractor and other Farm, Trophy and Taylor and Barrett Brewer's Drays, with various Farm, Zoo, Accessories, and Wagons.
Continental figures: Elastolin Early 100mm scale, 70mm British, French, German and Swiss armies, Wild West, Personality figures, British Ceremonial, WWI, tinplate Artillery, Bands, Medical, Civilians, Knights, Plastics, etc. Heyde Indian Elephant with hunter full dress RAMC vignettes, Dervishes, Arab Cavalry, 1st Boer War, Uhlans, Camel Train, Palm Trees, Sudanese Village, Lucotte/CBG Mignot Napoleonics, flats and semi-flats, Gonio and Kaden tinplate vehicles.
Gloss finish New Toy Soldiers: Soldiers Soldiers, Tradition, Nostalgia, Ducal, Blenheim, Trophy Field Kitchen, Steadfast, Caberfield Miniatures, Fusilier, Asset, Music in Miniature, Rank & File, Monmouth, Militia, William Cranston, British Bulldog, Mark Time Observation Balloon etc.
Models and Dioramas large and small scales, painted and unpainted, modelling equipment
Plastic Figures: Elastolin, Preiser, Airfix, Eyes Right Ceremonial and ACW, Swoppet Knights, Timpo, Starlux, Lone Star, Crescent, Cherilea RARE Execution set, Medievals, nearly 70 lots
NEXT SALE DATE: Wednesday 7th December 2022
Contacts:   JAMES OPIE Consultant: Tel. +44 (0) 20 7794 7447    E-mail jamesopie@yahoo.co.uk C&T Auctioneers: Web site www.candtauctions.co.uk
Unit 4 High House Business Park, Kenardington, Nr Ashford, Kent TN26 2LF
Catalogues and Bids Tel. (three lines) +44 (0) 1233 510050 E-mail enquiries@candtauctions.co.uk