James Opie's Pre-Auction Newsletter No. 15
01/06/2020 | James Opie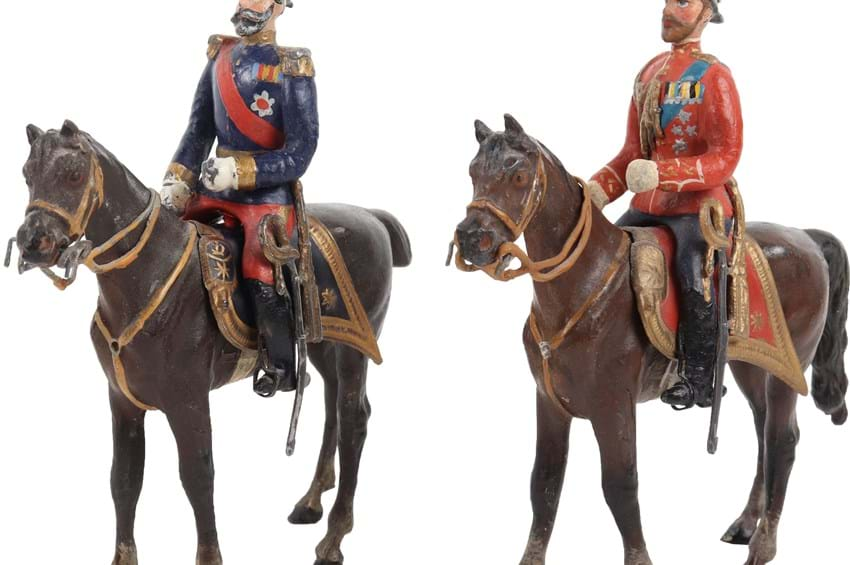 Dear Collector,
I am really hoping that everyone is OK and staying safe. Times have indeed changed, and having had a joint modern and new toy soldier online sale together with the toy department, our next solus Toy Soldier Sale has ended up online only as well, even though there are signs that we may be back to normal soon.
The sale, under the circumstances, is a good deal smaller than usual, but we still have representative selections of lots in all categories, as you will be able to see in the accompanying leaflet below.
The 281 lots of the June 17th Sale with the pictures are now online at www.the-saleroom.com. There is also a full, and less expensive online service on the C & T website at www.candtauctions.co.uk. There are 1,230 photographs, showing over 12,362 items. 
CONTENTS No. of lots.  
Britains and British Hollowcast Toy Soldiers:
Early, pre-1919 Lots     1 to 19 19
Golden Age 1919-1947 Lots      85 to 99 15
Twilight 1945-1966 Lots 142 to 154, and 187 to 200 27
Other than Britains and other hollowcast:
New Toy Soldiers and repaints Lots 201 to 233 33
Britains and other Civilian figures Lots 301 to 363 63
French and German Toy Soldiers Lots 401 to 447 46   No lot 423
Military Models and Collectibles Lots 496 to 536 41
Plastic figures Lots 564 to 600 37
Owing to our new website, following government guidance we need everyone to log in positively on the website to the list for receiving emails from C & T, so that we can remind you about forthcoming sales, or new ones inserted into the schedule.
Remember that you can bid online via the Saleroom.com (4.95% + VAT extra for this service), or you can place bids by telephone on +44 (0) 1233 510050 or e-mail.  But perhaps best of all, you can for this sale use C & T's new online real time bidding service for no extra charge (buyers premium at 24% including VAT of course still applies).
PLEASE do not send bids to my email addresses on the day before or the day of the sale, as I will not be able to transfer them.  Send instead to enquiries@candtauctions.co.uk, and the bids will be entered. Any queries about the content can be answered at my normal email jamesopie@yahoo.co.uk, or on my 'phone: +44 (0) 20 7794 7447 
All good wishes, 
James
Sale highlights summary follows on next page.JAMES OPIE AT C & T AUCTIONEERS
Livestream online only.
FINE TOY SOLDIER AND FIGURES 
WEDNESDAY 17 JUNE 2020 at 10.30am 
All lots on display on www.the-saleroom.com and at www.candtauctions.co.uk
Ancient Britains: S A Lancers, Shafted Limber RHA, 2nd version RHA and RFA, Boer War, Donkey Horse Hussars, cross legged Lancers, tin sword Dragoons, 2nd Life Guards, Household Cavalry etc.
Golden Age: Prussian Hussars, General Staff, Barrage Balloon, Anti-aircraft equipment, Motor Vehicles, 4.7" AA Gun, Arabs on Camels, Indian Army etc.
Britains Postwar: 2011 RAF Display, 2052 AA Display, Highlanders with Colours, Artillery, Drums and Pipes of the Irish Guards, Benbros, Reynolds, Timpo GIs Hill, Crescent, Charbens etc.
Civilians: Britains: Powerfarm, Hunting series, set 127 Fordson Major Tractor, Vehicles, 09675 Gift Set, Miniature Gardening, plastic Zoo and Farm, metal Farm, horse drawn vehicles and implements, Hill Bullock Carts, T & B Water Cart, Charbens Coal Cart etc.
Continental figures: Heyde Personalities: Frederick the Great, George V, Prince of Wales, General Boulanger, 60mm British Band and Infantry CBG Mignot set 584 Field Hospital, Personality figures, Chasseurs, Zouaves, Marines, Voltigeurs, Gardes de Paris, Spahis, Lucotte, XR, Elastolin etc.
Collectables: King and Country RAF, Britains Matte Series Rose Romans and Greeks
New Toy Soldiers and conversions: William Cranston, Nostalgia, Gunboat, Glenn Miller Orchestra, Mounted Bands of the Indian and Egyptian Armies, and the 16th Lancers, Elephant Gun, Dodge City Cow-Boy Band, Imperial Productions Rorkes Drift, Dorset Ox-drawn 4.7" Naval Gun, Traction Engine with Howitzer, Medievals, Wild West, Napoleonic Prussian Artillery Roman bath etc.
Courtenay: Named Medieval Knights, two figure Vignette, Courtenay style Persians and Assyrians
Plastic Figures: Eyes Right, Swoppets, Deetail, Playbases,, Farm, Zoo, Wild West boxed buildings & sets, Herald Chariots, Historex, Lone Star, Timpo, F.G.Taylor Farm, Forts, Starlux Farm No.5 etc.
NEXT SALE DATE:  WEDNESDAY 9 DECEMBER 2020
Contacts:   JAMES OPIE Consultant: Tel. +44 (0) 20 7794 7447    E-mail jamesopie@yahoo.co.uk C&T Auctioneers: Web site www.candtauctions.co.uk
Unit 4 High House Business Park, Kenardington, Nr Ashford, Kent TN26 2LF
Catalogues and Bids Tel. (three lines) +44 (0) 1233 510050 E-mail enquiries@candtauctions.co.uk